G7 members seek to push Moscow out of nuclear energy market
The UK, US, Canada, Japan and France have announced an agreement to reduce their dependence on Russian nuclear supply chains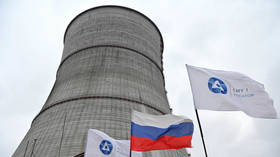 Five members of the G7 group have formed an alliance aimed at blocking Russia out of the international nuclear energy market. The US, UK, Canada, Japan and France reached the agreement on the sidelines of a G7 meeting in Sapporo, according to a joint statement shared on Sunday by the British government.
Under the agreement, the allied countries have vowed to use the respective resources and capabilities of each state's civilian nuclear energy sectors to "ensure the secure supply of uranium fuel through the development of shared supply chains that isolate Russia."
The document further states that the five countries have "identified potential areas of collaboration on nuclear fuels to support the stable supply of fuels for the operating reactor fleets of today, enable the development and deployment of fuels for the advanced reactors of tomorrow, and achieve reduced dependence on Russian supply chains."
"Together, today's G7 commitments deal a blow to Russia, demonstrating the international resolve to isolate Putin further internationally," the British government said in a press release.
British Energy Security Secretary Grant Shapps declared that the UK has been "at the very heart of global efforts to support Ukraine" and "defeat Putin," adding that the latest agreement is "the next vital step, uniting with other countries to show Putin that Russia isn't welcome anymore."
The move comes after it was revealed last week that a number of EU countries were also planning to cut their reliance on Russian uranium by turning to Kazakhstan for supplies, according to a Bloomberg report.
Russia is considered to be one of the world's largest uranium producers. However, after Moscow launched its military operation in Ukraine over a year ago, a number of countries have been seeking to reduce their dependence on Russian supplies. This includes the US, which is the world's largest uranium consumer.
While Washington has introduced a number of restrictions on Russian energy imports, these sanctions have yet to target uranium, despite pressure from US senators to place an embargo on imports. Meanwhile, experts in the nuclear energy field have warned that any disruption in supplies of Russian uranium would "shake" the market and cause "upward pressure" on prices.
You can share this story on social media: