Gangster-turned-politician killed on live TV
Atiq Ahmed and his brother were fatally shot in northern India by gunmen posing as journalists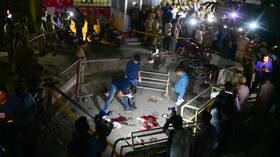 Indian gangster and former politician Atiq Ahmed was shot dead during a live broadcast on Saturday night while he and his brother were being escorted by police and talking to reporters. The murder took place in the city of Prayagraj, also known as Allahabad, in India's northern state of Uttar Pradesh.
Atiq Ahmed, who was serving a life sentence for kidnapping, and his brother Ashraf were being escorted to a hospital for a medical check-up.
Handcuffed and flanked by officers, Ahmed was talking to several journalists when he was shot at point-blank range. His brother was also killed. A police officer and a reporter were injured.
The moment when an assailant pulled a gun close to Ahmed's head was caught on video. Other attackers were also seen firing several shots at the bodies after the brothers fell on the ground.
Three suspects were detained at the scene. Police officer Ramit Sharma said the attackers got close to Ahmed by posing as journalists. "It all happened in seconds," he said.
Indian media cited regional government sources as saying that all the suspects have a criminal record. According to a crime report quoted by news outlets, the assailants told the officers they wanted to kill the Ahmed brothers "to become popular."
Ahmed was born in Prayagraj in 1962. According to the media, he was first accused of murder at the age of 17 and eventually rose to running a criminal network in Uttar Pradesh. Overall, he had more than 100 criminal cases launched against him over the past two decades.
Despite his reputation, Ahmed was elected to serve in the Uttar Pradesh state assembly for five consecutive terms between 1989 and 2004, and was a member of Lok Sabha, the lower house of India's national parliament between 2004 and 2009.
Last month, Ahmed was sentenced to life imprisonment for kidnapping lawyer Umesh Pal in 2006. Pal was a key witness in the 2005 murder of politician Raju Pal, Ahmed's rival.
Umesh Pal was killed in February. Ahmed and his 19-year-old son Asad were among the suspects in the lawyer's murder. Asad was himself killed on Thursday in a shootout with police.
You can share this story on social media: