Japanese PM targeted in 'smoke bomb' attack
Fumio Kishida was rushed away from the scene after a sudden explosion interrupted his speech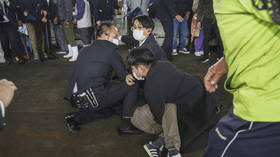 A loud blast was heard during Japanese Prime Minister Fumio Kishida's visit to the port city of Wakayama on Saturday, creating chaos as the crowd attempted to flee. The premier was evacuated from the scene, reportedly unharmed, and authorities have taken one suspect into custody.
An explosion rang out around 11:30am local time as the premier prepared to deliver a stump speech at the Saigasaki fishing port, with a man emerging from the crowd and hurling what appeared to be a "smoke bomb" toward Kishida, according to Kyodo News.
Multiple witnesses cited by NHK, including a local city council member, said they saw somebody throw a "cylindrical silver object" immediately before the blast. There were no injuries, according to initial reports.
The resulting panic was captured on video, showing police officers scuffling with a suspect on the ground as they attempted to subdue him. Bystanders were also seen fleeing in all directions amid the confusion.
Kishida was unharmed and safely removed from the area, according to Japanese officials. The leader had traveled to the port city to voice support for the ruling Liberal Democratic Party, as candidates campaign for a by-election set for later this month.
The prime minister's predecessor, Shinzo Abe, was assassinated during a public campaign event last year, with a gunman fatally shooting the former leader with a homemade firearm. A 41-year-old veteran of the Japanese military, Tetsuya Yamagami, was arrested at the scene and later confessed to the murder.
You can share this story on social media: