French far-right veteran Jean-Marie Le Pen rushed to hospital
The 94-year-old's condition has been described as "serious," according to media reports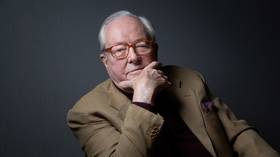 The veteran French far-right politician and founder of the National Front party Jean-Marie Le Pen has been hospitalized, his aide has confirmed.
Le Point magazine reported that the 94-year-old was admitted to a medical facility on Saturday afternoon after feeling unwell at his home in Paris.
His condition has been described as "serious" by doctors, sources told BFMTV.
According to AFP, Le Pen, the father of France's current right-wing leader Marine Le Pen, has suffered a "mild heart attack."
The politician's adviser Lorrain de Saint Affrique said "Jean-Marie Le Pen has been hospitalized in a public institution in the Paris region. His family and friends are concerned, but calm."
She didn't reveal the nature of Le Pen's health problems or his condition, only saying that he remained "conscious."
Later on Sunday, Marine Le Pen said that her father had been hospitalized but was "doing well." She thanked everybody who'd inquired about his health, adding that she was going to visit him shortly.
Le Pen, who was born in Brittany in 1928, took part in French colonial wars in Algeria and Vietnam. He became the country's youngest MP at the age of 27 when he was elected to parliament in 1956.
He founded the far-right National Front, which is now known as the National Rally, in 1972 and remained its leader for four decades. He was also a member of the European Parliament between 2004 and 2019.
Le Pen was expelled from his own party by his daughter in 2015 after saying that gas chambers used to kill Jews in the Holocaust were only a "detail of history," and urging France to join forces with Russia to save "the white world."
At that time, Marine Le Pen said her father was "committing political suicide" with his remarks about Jews, migrants, sexual minorities, and other issues. He responded by saying he wouldn't vote for his daughter in the 2017 presidential election.
Distancing itself from extreme views has allowed the National Rally to strengthen its position on the French political scene in recent years. It now holds 89 seats in parliament, making it the country's main opposition party.
You can share this story on social media: