Marine Le Pen outlines possible Ukraine conflict scenarios
Russia's victory would be catastrophic but a Ukrainian win would unleash WWIII, the French presidential hopeful said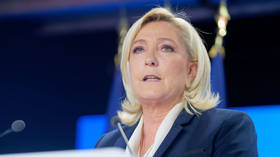 French National Rally party leader Marine Le Pen has warned that the Ukrainian conflict could end up lasting for over a century unless something is done to resolve it. In an interview on Tuesday shared with several European outlets, the presidential hopeful outlined the possible routes she believes the hostilities could take.
"If Russia wins the war, it will be catastrophic because all countries with a territorial conflict will think that they can solve it with weapons," she was quoted by El Pais as saying.
On the other hand, according to Le Pen, if Ukraine wins it would mean that NATO had entered the war. "I am convinced that Ukraine, without the power of NATO, cannot militarily defeat Russia," she said, adding that if such a scenario played out, then it would mean that "World War III has been unleashed."
The third option outlined by the politician is that the West continues to "slowly deliver weapons to Ukraine, as we are doing now," a situation which could drag the fighting out and into "a new Hundred Years War," referring to the conflict from 1337 to the mid 1400s between England and France.
Pressed to specify how she would resolve the conflict, Le Pen refused to elaborate, saying that "I'm not going to give you a peace plan right here, on a coffee table." She has previously called for peace negotiations between Moscow and Kiev to take place as soon as possible.
During her political career, Le Pen has often been accused of having close ties to Russia and previously stated that she shared Putin's global vision. Her party even received a nine-million-euro loan from a Russian bank in 2014.
However, since the start of Russia's military offensive in Ukraine, she has distanced herself from Moscow and has declared that she believes in the sovereignty of nations and insisted that Ukraine has a right to join NATO if it wants to.
Nevertheless, she has opposed sending offensive weapons to Kiev's forces, instead suggesting that France should only send defensive ones. She has also branded the EU's economic sanctions on Moscow as a "geopolitical mistake" and advocated against targeting Russia's energy sector, saying this only hurts Europe in the end.
Le Pen is currently topping French presidential polls, which suggest she could comfortably beat current president Emmanuel Macron, who was re-elected last year to a second term.
You can share this story on social media: