Multipolar world risks new Cold War – IMF chief
Rejecting globalization for rival trade alliances would end badly, Kristalina Georgieva warned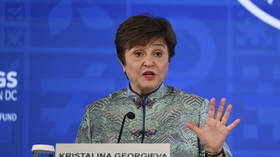 Allowing the global economy to split into self-sufficient trade blocs could trigger another Cold War, International Monetary Fund managing director Kristalina Georgieva has warned. She was speaking at a press conference at the IMF and World Bank's Spring Meeting on Thursday.
Acknowledging that recent events like the coronavirus pandemic and the conflict in Ukraine had exposed the flaws in globalization and highlighted the importance of controlling critical supply chains, she argued governments must not turn too far inwards to secure their economies.
"The question is, can we be more determined to enhance security of supplies but not push the world that far that we are into a second Cold War?" Georgieva asked, insisting, "I believe it is possible."
"If we fail to be more rational, then people everywhere would be worse off," she added while calling for "a bit more cool-headedness."
The G7 countries released a statement on Wednesday emphasizing the importance of "enhancing supply chain resilience," and promising to work together with low and middle income countries. The missive was widely understood to be an expression of the group's common desire to form a new supply chain that does not rely so heavily on China.
"The long-term cost of trade fragmentation could be as high as 7% of global GDP," or 12% with the addition of "technological decoupling," Georgieva claimed during her opening remarks at the meeting, urging her colleagues to "step up international cooperation" to preserve capital flows - especially foreign investment.
An IMF working paper discussed at the conference argued that allowing the global economy to separate into the US-led "democratic" West on one side and China, Russia, and other US rivals on the other, would be catastrophic for smaller nations.
Concerns are already rising about China laying undersea communications cables after being shut out of the construction of a new branch of the existing international network, with some experts fearing the result will be two internets.
French President Emmanuel Macron also plans to host a summit about building a "new financial framework," his finance minister Bruno Le Maire told reporters, advising against total decoupling from China. The announcement came after Macon's call for the EU to strive for "strategic autonomy" from the US was well received by several EU members.
The conflict in Ukraine has drained European coffers and weapons stockpiles, both through direct aid to Kiev and through the increased cost of replacing embargoed Russian energy with more expensive alternatives like the US' liquefied natural gas.
Meanwhile, the BRICS countries are discussing issuing a common currency, much to the chagrin of Washington, which relies on the dollar's status as world reserve currency to keep its value high amid near-record inflation and hitherto-unseen levels of money-printing.
You can share this story on social media: