US national debt to skyrocket – IMF
Interest payments and the shift to clean energy will add to government spending, the organization warns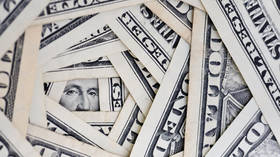 US public debt will continue to rise in the coming years amid increased government borrowing, the International Monetary Fund said in its Fiscal Monitor report released on Wednesday.
IMF economists believe the rise will come partly because Washington is spending more on healthcare and social security, as well as clean energy projects and other domestic economic policies.
The US debt-to-GDP ratio is projected to be 122.2% this year, just slightly above 121.7% in 2022. It is expected to rise further to 136.2% of GDP in 2028, up from 107.4% in 2018, and higher than the Covid pandemic-era peak of 133.5% in 2020, according to the IMF.
The agency noted that the US and China are the two main drivers of the global increase in public debt. It cautioned that expanding government borrowing and spending could exacerbate inflationary pressures, undermining the efforts of the central banks.
"By the end of our projection horizon – 2028 – public debt in the world is expected to reach almost 100% of GDP," the head of the IMF's Fiscal Affairs Department, Vitor Gaspar, told the Financial Times, adding that this is "back to the record levels set in the year of the pandemic."
The IMF also said that recent banking problems in the US and Switzerland have added to the risks of a global financial crisis, which could put even more pressure on public sector balance sheets.
For more stories on economy & finance visit RT's business section
You can share this story on social media: