US sanctions individuals in Hungary
The financial penalties target an investment bank and its executives in Budapest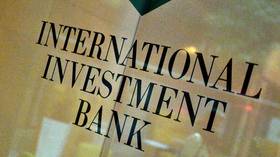 The US has blacklisted a Russian-linked investment bank and three of its executives in Budapest. The sanctions come after Hungarian Prime Minister Viktor Orban repeatedly claimed that the US and its allies are attempting to pressure his country into arming Ukraine.
The US Treasury Department announced sanctions on 80 Russian-linked individuals and entities on Wednesday. Included on the list was the Budapest-based International Investment Bank and three of its current or former executives, two of whom are Russian and one Hungarian.
The International Investment Bank was formed in 1970 by several members of the former Warsaw Pact, and is managed today by officials from Cuba, Hungary, Mongolia, Russia, and Vietnam. Bulgaria, the Czech Republic, Romania, and Slovakia pulled out of the bank last year after EU sanctions froze most of its funds.
In a statement, the Treasury Department described the bank as an outpost of Russia's "intelligence presence in Europe," and accused it of serving "as a mechanism for corruption and illicit finance, including sanctions violations."
"Unlike other NATO allies previously engaged with this Russian entity," US ambassador David Pressman told reporters in Budapest on Wednesday, "Hungary has dismissed the concerns of the United States government regarding the risks its continued presence poses to the alliance."
The timing of the sanctions is noteworthy, coming a day after Hungary clinched a new gas deal with Russia. Hungarian and Russian officials also discussed an acceleration of the ongoing expansion of Hungary's Paks nuclear power plant by Rosatom, Russa's state atomic energy agency.
Orban has claimed that his country is being subjected to "constant pressure" from its NATO allies to sever its energy links with Russia and step into the Ukrainian conflict on Kiev's side.
Although a NATO member, Hungary has refused to supply Kiev with weapons or allow arms to enter Ukraine through its territory. Orban, meanwhile, has refused to back any EU sanctions that would cut it off from Russian gas, oil, or nuclear fuel.
"They want to drag us into the war through every possible means," Orban told Swiss magazine Weltwoche last month. "So far, we have managed to resist."
You can share this story on social media: