Kremlin comments on French peace pitch
Paris can't mediate because it's openly on Ukraine's side, presidential spokesman Dmitry Peskov has said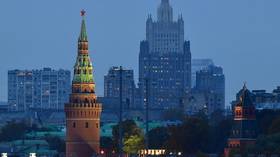 French involvement in finding a settlement to the Ukraine conflict is difficult to imagine at the moment, because Paris has openly taken the side of Kiev, the Kremlin insisted on Monday.
"Paris can hardly aspire to be a mediator at this time, because Paris actually takes the side of one of the participants in the conflict," Dmitry Peskov told reporters, adding that France is "directly and indirectly" involved on the side of Ukraine.
Peskov was commenting on reports from the recent visit of French President Emmanuel Macron to China. During a dinner with Macron in Guangzhou, Chinese President Xi Jinping told his visitor that Beijing welcomed French proposals for a political and diplomatic resolution of the Ukraine conflict, and would be willing to support them.
China has proposed a 12-point road map for ending the conflict, which the US openly rejected before any of its NATO allies – including France – or Ukraine itself had a chance to react.
If Macron has offered his own peace platform, it has not been made public yet. During his visit to China, the French leader demanded Beijing denounce the Russian "invasion" and side with the West, which Xi declined to do.
France has been on board with all ten rounds of EU sanctions against Russia, while sending Ukraine a variety of weapons systems, including Caesar self-propelled howitzers, Crotale air defense missiles, and AMX-10 light tanks. Paris has also trained Ukrainian troops on French soil as part of an EU program of aiding Kiev.
Macron drew criticism from the US on Monday for his comments about the EU's "strategic autonomy" when it comes to relations with China. The French leader had said it was not in the bloc's interest to stoke the conflict over Taiwan or "become followers on this topic and take our cue from the US agenda."
Senator Marco Rubio, a Florida Republican on the Foreign Affairs Committee, said that the US was spending a lot of money on a "European war" and should perhaps leave the EU to "handle Ukraine" on its own instead.
You can share this story on social media: