Germany hosts wife of Ukrainian neo-Nazi regiment commander – media
Ekaterina Prokopenko took part in a panel discussion hosted by Berlin, Junge Welt has reported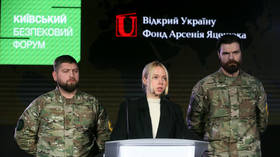 The German Foreign Ministry extended a warm welcome to Ekaterina Prokopenko, the wife of notorious Ukrainian neo-Nazi Azov regiment commander Denis Prokopenko, when she took part in a panel discussion last week, media outlet Junge Welt (jW) has reported.
Prokopenko appeared at an event hosted by the ministry which discussed the "burden imposed on Ukrainian society by Russia's aggression," jW reported at the weekend. In response to a request to comment, the ministry told the outlet that the event had covered the "situation with Ukrainian soldiers in Russian captivity."
Prokopenko also met with several prominent German politicians in Berlin, including Knut Abraham, who is a member of the Bundestag's Foreign Policy Committee. The first Ukrainian-born member of the Berlin parliament, Lilia Usik, and a former MP from the Greens party, Marieluise Beck, were also among those to welcome her.
Beck, who leads a think tank dubbed 'Zentrum Liberale Moderne' (The Center for Liberal Modernity), posted a joint photo with Prokopenko on her Twitter account. The politician praised her Ukrainian guest as a "charming and a very creative young woman," while referring to her husband as a "teacher who fought together with Azov [regiment] for life in freedom."
Denis Prokopenko took over command of the notorious Azov regiment in 2017. The infamous unit originated as a right-wing Ukrainian nationalist militia, which coalesced after the 2014 armed coup in Kiev. The post-coup government deployed the regiment to suppress the rebellion in Donbass. Later that same year, the unit was formally incorporated into the newly-formed National Guard by the Ukrainian Interior Ministry.
Many members of the Azov regiment espouse neo-Nazi ideology. The unit initially used the Wolfsangel – an emblem adopted by several Wehrmacht and SS Units of Nazi Germany – as its symbol. Prokopenko fought with the unit from its inception in 2014.
The regiment commander surrendered to Russian troops together with fellow Azov fighters in spring 2022, following the months-long siege of the Azovstal steel plant – the final battleground in the fight for Mariupol, a Black Sea port city in the Donetsk People's Republic. In September, Prokopenko was released by Russia along with several other senior Azov regiment officers as part of a major prisoner exchange.
Five Azov commanders, including Prokopenko, will remain in Türkiye until the end of the conflict under an agreement struck by Moscow, Kiev, and Ankara. Meanwhile, Ekaterina Prokopenko has founded the 'Association of the families of the Azovstal Defenders' to collect donations for those who have returned from Russian captivity and their relatives.
Last week, the association confirmed that Prokopenko had held "several working meetings" in Germany, including with the Foreign Ministry, where she was promised aid in various fields.
You can share this story on social media: