Trump backs 'military options' against Mexican cartels – media
The former president has vowed to deploy US special forces to "inflict maximum damage" on drug cartels if he is reelected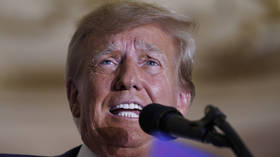 Former US President Donald Trump has asked multiple policy advisers to draw up "battle plans" to deal with Mexican cartels as he aims to return to the White House in 2024, Rolling Stone has reported. While still in office, Trump threatened terrorism designations for drug gangs operating across the border, but later reversed course.
The 2024 presidential contender has sought a "range of military options" from campaign advisers, including "strikes that are not sanctioned by Mexico's government," the outlet reported on Friday, citing two unnamed sources familiar with the discussions.
"'Attacking Mexico,' or whatever you'd like to call it, is something that President Trump has said he wants 'battle plans' drawn for," one of the sources told Rolling Stone. "He's complained about missed opportunities of his first term, and there are a lot of people around him who want fewer missed opportunities in a second Trump presidency."
Staffers have presented the former president with multiple different plans, some of which involve unilateral military action and US troop deployments in Mexico without permission from local authorities.
One potential option was outlined in an October 2022 policy paper from the Center for Renewing America (CRA), a think tank closely aligned with Trump and his broader MAGA movement. Titled 'It's Time to Wage War on Transnational Drug Cartels,' the document calls on the next Republican administration to launch armed attacks on drug traffickers, citing "the mounting bodies of dead Americans from fentanyl poisonings."
The document stresses that "It is vital that Mexico not be led to believe that they have veto power to prevent the US from taking the actions necessary to secure its borders and people."
Trump has previously pledged to "order the Department of Defense to make appropriate use of special forces, cyber warfare, and other overt and covert actions to inflict maximum damage on cartel leadership, infrastructure and operations" should be win reelection in 2024.
"When I am president, it will be the policy of the United States to take down the cartels, just as we took down ISIS and the ISIS caliphate," he said in a statement earlier this year.
As president, Trump also publicly weighed up whether to designate Mexican cartels as terrorist organizations, but later agreed to call off the move after talks with his Mexican counterpart Andres Manuel Lopez Obrador. Nonetheless, Trump successfully pressured Mexico City to deploy some 15,000 soldiers to help secure the border with the US after threatening new tariffs.
You can share this story on social media: