Mexico turns to China for assistance
The country has asked Beijing for help in curbing fentanyl traffic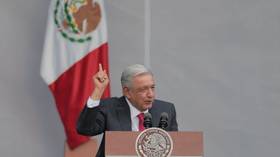 Mexican President Andres Manuel Lopez Obrador has called on Chinese leader Xi Jinping to help crack down on fentanyl trafficking amid "deceitful and irresponsible" claims by US officials that Mexico is to blame for Washington's drug crisis.
"Unjustly, they are blaming us for problems that in large measure have to do with their loss of values, their welfare crisis," Lopez Obrador wrote to Xi in a March 22 letter that he revealed to reporters on Tuesday. "These positions are in themselves a lack of respect and a threat to our sovereignty, and moreover they are based on an absurd, manipulative, propagandistic and demagogic attitude."
Lopez Obrador went on to ask Xi for help not with "these rude threats, but to ask you for humanitarian reasons to help us by controlling the shipments of fentanyl that may be sent from China to our country." He added that by providing information on fentanyl cargoes, including their expected locations and arrival times, China's government could help Mexican authorities gain "greater control" over the shipments.
Mexican drug labs reportedly press fentanyl ingredients shipped from overseas, especially China, into pills that are made to resemble regular pharmaceuticals. Republican lawmakers in Washington have blamed the US-Mexico border crisis for a flood of fentanyl shipments into the country, which has caused around 70,000 deaths annually from synthetic opioid overdoses.
However, Lopez Obrador said in his letter to Xi that social decay was driving US demand for fentanyl. "I would tell them, for example, to keep their children at home longer. Don't kick them out of the house. Keep them for two or three years more," he advised.
He added that only about 30% of the illegal fentanyl consumed in the US is smuggled across the US-Mexico border. "Nevertheless, in a deceitful and irresponsible way, some US lawmakers have recently blamed Mexico for the misfortune they suffer in their country due to the use of fentanyl," he said.
Beijing banned fentanyl exports in 2019, a move hailed by then-US president Donald Trump as a potential "game changer," but Chinese suppliers have allegedly shipped fentanyl precursor drugs to Mexican cartels. Chinese officials have rejected the US allegations that the cartels are making fentanyl pills with ingredients supplied by China as "utterly false."
You can share this story on social media: