Taiwan faces choice between 'peace and war' – ex-president
Ma Ying-jeou became the island state's first-ever former president to visit mainland China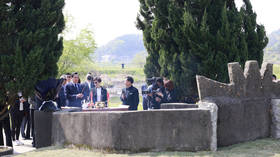 Ma Ying-jeou, president of Taiwan between 2008 and 2016, has warned that the island state might in future be forced to choose between "peace and war" as he criticized Taiwan's current leadership while concluding an historic visit to China.
"Our administration continues to lead Taiwan to danger," Ma said on Friday after returning from Shanghai. "The future is a choice between peace and war." He added that Taiwan and China could potentially share a "common political basis" which would prove to be beneficial to the Taiwanese population.
Ma led Taiwan for eight years as the head of the Kuomintang (KMT) government, which favors close ties with Beijing, which itself claims sovereignty over the island. He is the first former Taiwanese leader ever to have visited mainland China since civil war fractured the Asian country and prompted the Republic of China government to flee to Taiwan in 1949 after its defeat by Mao Zedong's Chinese Communist Party.
Ma's 12-day trip saw him visit memorial sites and cemeteries, including the tomb of his grandfather in Hunan Province, according to a report by China's Xinhua News Agency on Friday. It added that the visit "offered a window for compatriots at home and abroad into the kinship of people on both sides of the Taiwan Strait."
He also said he hoped his coming to China would help ensure "Taiwan has a future of real peace and safety."
Taiwan's current leader, Tsai Ing-wen of the Democratic Progressive Party (DPP), was critical of Ma's diplomatic venture into China. She said in a statement that it showed he has become an "accomplice" of the One China principle, which advocates a position that Beijing is the legitimate sovereign ruler of Taiwan.
However, Tsai also indicated that Ma's cordial visit to Beijing showed that Taiwan and China could in future hold diplomatic discussions to show that both are part of a single China, even if they hold separate definitions of the term.
Ma's visit was conducted amid heightened tensions in the Taiwan Strait following a meeting between Tsai and US House Speaker Kevin McCarthy in the USA this week. Earlier this year Tsai proposed renewed talks with Beijing to "maintain stability" in the region. China, which views Tsai as a separatist, suspended cross-strait discussions when she assumed power in 2016.
You can share this story on social media: