China imposes sanctions over US-Taiwan meeting
The measures come in response to the encounter between Taipei's leader and the American House speaker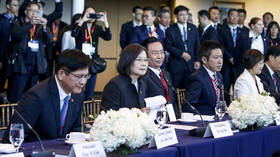 The Chinese government has imposed sanctions on America's Hudson Institute and Ronald Reagan Presidential Library, as well as executives from the two organizations, after they hosted Taiwan's president during her recent trip to the US. Beijing has also taken measures against Taiwan's envoy to Washington.
The Chinese Foreign Ministry stated that the organizations and individuals were being sanctioned for their roles in the meeting between Taiwanese leader Tsai Ing-wen and US House Speaker Kevin McCarthy earlier this week in California.
On Friday, the ministry announced that both US institutions are now banned from cooperating with any individuals, universities, or institutions under Beijing's jurisdiction, including those in Hong Kong and Macau.
According to the statement, both the Reagan Library and the Hudson Institute – which is a Washington DC-based think tank – had provided a "platform and convenience to Taiwan separatist activities."
Several leading executives from the two entities, including Hudson Institute officials Sarah May Stern and John Walters, and Joanne Drake of the Reagan Library, will be denied Chinese visas and will have any assets frozen that they may own in the country.
Sanctions were also placed on two more organizations – one from Taiwan and the other from the US – as well as Taipei's representative in America, Hsiao Bi-khim. Hsiao is already on a Chinese sanctions list for her involvement in the arrangement of the visit by then-US House Speaker Nancy Pelosi to the self-governing island in August of last year.
On Wednesday, Tsai sat down with McCarthy and a bipartisan group of congressional leaders at the Reagan Library in Simi Valley, California despite China's stern warnings.
The Hudson Institute conferred its global leadership award on Taiwan's president last Thursday.
During her meeting with McCarthy, Tsai thanked Washington for its commitment to protecting Taiwan's "way of life," while the US official stressed the importance of relations between Washington and Taipei.
Taiwan has been de facto independent since 1949, when the losing side in the Chinese civil war fled to the island and established its own administration. While only a handful of nations have recognized Taiwan as a sovereign state, the US has long maintained close, unofficial ties with Taipei, both militarily and economically. Formally, Washington still professes to adhere to the 'One-China' principle.
Beijing considers the island to be an inalienable part of its territory that has been seized by separatists.
You can share this story on social media: