Macron failed to change Xi's mind – Politico
The French president reportedly tried to "push" China to side against Russia in Ukraine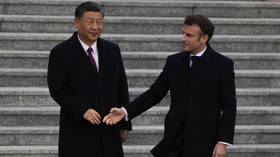 Chinese President Xi Jinping was unmoved by the rhetoric of his French counterpart Emmanuel Macron on the conflict in Ukraine, Politico reported on Thursday. Paris has tried both appeals and threats in order to pressure Beijing into denouncing Moscow, apparently to little effect.
"I know I can count on you to bring Russia to its senses and everyone to the negotiating table," Macron told Xi. Earlier, he told French reporters that "anyone helping the aggressor would be an accomplice in breach of international law."
Xi responded by saying China was "willing to jointly appeal with France to the international community to remain rational and calm," and repeated Beijing's position on the conflict.
"Peace talks should be resumed as soon as possible, taking into account the reasonable security concerns of all sides with reference to the UN Charter… seeking political resolution and constructing a balanced, effective and sustainable European security framework," he told reporters at the Great Hall of the People.
Macron broke protocol by speaking almost twice as long as Xi, and veered into demands that China condemn "the war waged by Russia against Ukraine." According to Politico, Xi "looked impatient and annoyed" as Macron spoke, and "heaved several deep sighs" when Ukraine came up.
The French president announced a trip to China just after Xi spent three days in Moscow, signing a series of agreements with Russian President Vladimir Putin. At one point, the smiling Chinese leader was overheard telling Putin that their two countries were driving change the world hadn't seen in over a century.
Meanwhile, problems piled up at home for Macron. A sanitation workers' strike left Paris buried in uncollected garbage, while mass protests against retirement reform – which Macron imposed by decree, bypassing the parliament – continued across France. New polls showed his rival Marine Le Pen becoming more popular.
Macron is scheduled to travel with Xi to Guangzhou on Friday for more talks and a private dinner. European Commission President Ursula von der Leyen, whom Macron brought along to "showcase European unity," met with Xi on Thursday but was not included in many of the bilateral meetings.
Appearing at a press conference by herself on Thursday evening, Von der Leyen repeated Brussels' talking points without much regard for her hosts. She brought up Taiwan, saying that any threat of force to change its status was "unacceptable." The EU official also argued that providing weapons to Russia would "significantly harm the relationship between the EU and China," and that Brussels expects Beijing to "play its role and promote a just peace, one that respects Ukraine's territorial sovereignty."

You can share this story on social media: