Le Pen tops French presidential poll
With Emmanuel Macron pushing deeply unpopular reforms, the veteran right-winger pulled ahead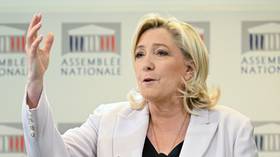 National Rally leader Marine Le Pen would comfortably defeat President Emmanuel Macron if France held a presidential election today, a poll published on Wednesday found.
Macron is currently facing a torrent of public anger over his efforts to raise the retirement age for most French workers.
The BFMTV poll found that Le Pen would emerge from a first electoral round with 31% of the vote, ahead of Macron with 23% and leftist Jean-Luc Melenchon with 18.5%. Such a result would be an eight-point improvement for the National Rally leader, who finished the first round last year with 23% to Macron's 28%.
French presidential elections take place over two rounds if no one candidate receives more than 50% of the vote, with the top two candidates from the first round advancing. This has always been the case under the Fifth Republic, and 2022 saw Macron defeat Le Pen by 59% to 41% in the head-to-head runoff.
Today, however, Le Pen would dispatch Macron by 55% to 45%, the poll found. While Macron counted on Republican, Green, and some leftist votes to win the second round last year, far fewer of these voters would switch to backing the president today. For example, while 68% of Green candidate Yannick Jadot's supporters voted for Macron in the second round last year, 52% would do so today.
Furthermore, 27% of Macron's voters in 2022 would either abstain or vote for Le Pen if given a rerun, the poll found.
Macron's government invoked special constitutional powers to pass a controversial pension reform bill without a parliamentary vote last month. The bill raised the retirement age for most French workers from 62 to 64, and its passage triggered a nationwide wave of protests and riots. The largest demonstration saw more than a million people take to the streets across the country, and hundreds were arrested in a single day in Paris for lighting fires and clashing with police officers.
Raising the retirement age has long been one of Macron's key goals, with the president describing the move as a "just and responsible" way to keep France's social security system afloat. Le Pen, who is best known for her opposition to Islamic immigration, focused her 2022 campaign on opposing the pension reforms and hammering Macron for France's rising cost of living.
Le Pen has continued to oppose the reforms, while condemning some acts of vandalism by protesters. France, she told the AFP news agency last week, "has been governed against its wishes. The way [Macron] is ruling will enable political forces with the exact opposite approach to his to gain power."
You can share this story on social media: