Macron urges Xi to mediate on Ukraine
France is counting on China to reason with Russia, its president said during a visit to Beijing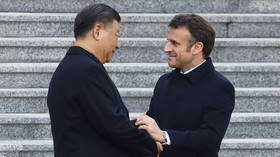 French President Emmanuel Macron has reiterated his calls for Beijing to serve as a mediator in the Ukraine conflict, during a meeting with his Chinese counterpart Xi Jinping. Macron is visiting China following a recent meeting between Xi and Russian President Vladimir Putin in Moscow.
"I know I can count on you to bring Russia to its senses and everyone to the negotiating table," the French leader told his host ahead of their talks at the Great Hall of the People in Beijing.
The Chinese government criticized Moscow's decision to send troops into Ukraine in February last year, but agreed with its argument that NATO's expansion in Europe and a refusal to respect Russian red lines were at the core of the confrontation. Xi has urged Russia and Ukraine to negotiate.
The French leader also asked the Chinese president to put pressure on Russia over what he perceived to be an affront to nuclear non-proliferation rules. Moscow has announced its intention to store some of its naval nuclear weapons in Belarus, arguing that it would be no different to Washington's deployment of nukes in other nations, including Belgium, Germany, Italy, the Netherlands and Türkiye.
Xi said all countries should respect commitments not to use nuclear weapons and urged the international community to "refrain from any action that would lead to further deterioration of the crisis or even to it getting out of control."
In February, the Chinese Foreign Ministry presented a general roadmap for resolving the Ukrainian conflict. Moscow said it would consider this but believed that some parts of the proposal were impossible to implement due to Kiev's uncompromising position. In March, Xi met with Putin in Moscow, and they were filmed saying warm goodbyes as their two-day encounter ended, with China's leader declaring that they were driving geopolitical change around the world.
Meanwhile, Beijing's 12-step peace plan was rejected by Washington, which criticized China for not condemning Russia. US Secretary of State Antony Blinken accused Xi of providing "diplomatic cover" for Russia when the Chinese leader visited Moscow last month. The top US diplomat warned other nations not to be "fooled by any tactical move by Russia, supported by China or any other country, to freeze the war on its own terms."
Kiev currently has a legal ban in place on negotiating with Russia and is seeking to defeat its opponent on the battlefield. Moscow considers the hostilities in Ukraine to be part of a wider US proxy war against Russia. It believes that the Ukrainian government's foreign policy is being determined by Washington.
You can share this story on social media: