Macron issues warning while on China trip
The French president has argued that any country helping Russia in its operation against Kiev will be viewed as an "accomplice"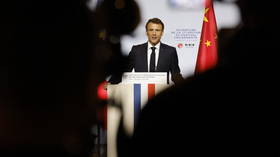 Any nation planning on assisting Russia in its ongoing military campaign in Ukraine should be aware that it will be treated as an "accomplice," French President Emmanuel Macron warned while on an official visit to Beijing.
Speaking to reporters in the Chinese capital on Wednesday, Macron said: "We have decided since the beginning of the conflict to help the victim, and we have also made it very clear that anyone helping the aggressor would be an accomplice in breach of international law."
Addressing the French community in Beijing, Macron noted that "China, with its close relationship with Russia, which has been reaffirmed in recent days, can play a major role" in ceasing the hostilities. The French head of state cited China's opposition to the use of nuclear weapons, as well as the peace plan put forth by Beijing in late February.
Macron went on to argue that Europe "must not disassociate [itself], separate [itself] from China" economically.
On Thursday, the French president is expected to hold talks with his Chinese counterpart and some other top officials.
According to the White House, Macron phoned US President Joe Biden ahead of his trip to China to discuss the matter.
The meeting between Xi and Putin in late March yielded an array of statements, protocols, memoranda and agreements. They ranged from deepening bilateral economic ties and the use of the yuan in foreign trade to "joint maritime and air patrols and joint [military] exercise."
The Russian head of state also lauded Beijing's twelve-step peace plan, adding, however, that Ukraine and its Western backers are not willing to discuss peace at this point.
Relations between China and Russia are "at their highest point in history," Putin declared during the talks.
Meanwhile, in late February, US State Department spokesperson Ned Price expressed concern over the fact that Beijing and Moscow "share a vision," adding that Washington believes the Chinese leadership has not ruled out providing Russia with military aid.
NATO Secretary General Jens Stoltenberg has echoed the allegation, which Beijing has consistently denied.
You can share this story on social media: