Iran and Saudi Arabia ramp up reengagement
The long-time regional rivals have agreed to reopen embassies after a ministerial meeting in Beijing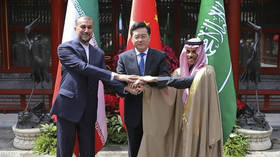 The foreign ministers of Iran and Saudi Arabia, two long-time regional rivals, have agreed to reopen their nations' respective embassies and consulates during talks in China. Tehran and Riyadh made a surprise announcement on the normalization of diplomatic ties last month, with Beijing mediating the effort.
Iran's Hossein Amir-Abdollahian and Saudi Arabia's Faisal bin Farhan Al Saud met in the Chinese capital on Thursday, seeking to build on the momentum from the March 10 agreement.
A joint statement released by the Iranian Foreign Ministry detailed a number of measures, including the upcoming reopening of diplomatic missions. The Iranian ambassador to China told journalists that the embassies and consulates would open their doors "soon," according to the Iranian news agency ISNA.
The two ministers also pledged to continue reengagement in other areas, including direct flights, issuing travel visas, commerce, and security cooperation. Iran and Saudi Arabia were described as "brotherly nations" in the statement. The ministers thanked China for hosting them and Switzerland for its role in representing the interests of the two nations.
The senior diplomats are also expected to make direct visits to each other's countries as part of the restoration of bilateral ties. Earlier in the week, Tehran confirmed that Iranian President Ebrahim Raisi had accepted an invitation to come to Riyadh, which was extended by Saudi Arabia's King Salman.
Mohammad Keshavarzzadeh, the Iranian ambassador to China, assessed that Beijing's diplomatic efforts to bring Iran and Saudi Arabia together were correcting "mistakes made by America." Beijing may play a significant role in mediating the conflict in Ukraine, he added.
You can share this story on social media: