NATO chief issues warning to China
The head of the US-led military bloc also unveiled a new "strategic multi-year assistance program" for Kiev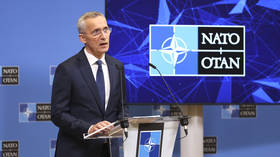 NATO Secretary Jens Stoltenberg has urged China to halt its "growing alignment" with Russia, warning that any military assistance from Beijing to Moscow during the conflict in Ukraine would be a "historic mistake" with major consequences.
Speaking after the conclusion of a NATO foreign ministers meeting in Brussels on Wednesday, Stoltenberg sounded the alarm over Moscow's friendly ties with the People's Republic, insisting Beijing could soon offer weapons to Russia despite its repeated confirmation that it has no plans to do so.
"China refuses to condemn Russia's aggression… And it props up Russia's economy," he claimed, adding "Allies have been clear that any provision of lethal aid by China to Russia would be a historic mistake, with profound implications."
While the NATO head did not elaborate on the "implications," Washington has previously threatened to respond to military support for Russia, while the US Treasury has already moved ahead with sanctions for several China-based companies accused of supplying parts for drones allegedly used by Moscow's forces.
Beijing has repeatedly denied it intends to supply weapons to Moscow, insisting it is "completely objective" toward the conflict while accusing US officials of spreading "disinformation" on the matter. Russia, too, has denied previous reports that it requested Chinese military equipment.
The two countries have nonetheless stepped up relations over the last year, with Russian President Vladimir Putin and his Chinese counterpart Xi Jinping vowing to "further deepen military mutual trust" after talks at the Kremlin last month. However, Putin has since stated that Russia is "not creating any military alliance with China," despite their "cooperation in the sphere of military-technical interaction."
Stoltenberg went on to say that the alliance had agreed to create a "strategic multi-year assistance program" for Kiev. He voiced hopes that the project would "increase Ukraine's interoperability with NATO, and to bring it up to NATO standards," as well as assist the country "on its path to Euro-Atlantic integration."
During a press briefing after the first day of discussions in Brussels on Tuesday, Stoltenberg was asked when Kiev would be admitted into the bloc, but could not provide an answer, merely saying that NATO's "position on membership is unchanged." While the alliance first offered a seat to Ukraine back in 2008, it appears little progress has been made in the 15 years since, with one unnamed Western diplomat recently telling the Financial Times that NATO is simply "ignoring" Kiev's membership application.
You can share this story on social media: