Kremlin responds to latest NATO expansion
Russia will apply "countermeasures" after Finland became the military bloc's newest member, Putin's spokesman has said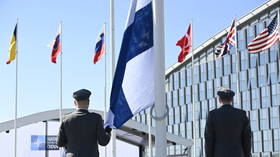 Russia will respond with appropriate "countermeasures" after Finland officially joined NATO, Kremlin spokesman Dmitry Peskov has said. The Nordic nation became the bloc's 31st member on Tuesday, while neighboring Sweden is still in the process of applying for accession.
"The expansion of NATO is an encroachment on our security, on the interests of the Russian Federation. That is exactly how we see it," Peskov said during a call with journalists.
"We will apply countermeasures to ensure our security in a tactical and strategic sense," the spokesman added. He reiterated that Finland's new status would affect relations between the two neighbors, arguing that the US-led bloc is "unfriendly and, in many ways, hostile to Russia."
Peskov said Moscow would monitor the deployment of NATO forces and installations on Finnish territory, including those along the border it shares with Russia, and would adjust its response to the situation.
Helsinki and Stockholm ditched their long-standing tradition of non-alignment shortly after Russia launched its military operation in Ukraine last year. According to the Finnish Foreign Ministry, "the threshold for using military force in the Baltic Sea region will rise" once Finland and Sweden both become NATO members. NATO Secretary General Jens Stoltenberg said on Monday that Helsinki's accession would be beneficial for both Finland and the bloc as a whole.
Moscow, which has always viewed the alliance's expansion eastward as a threat, has consistently warned that further enlargement would only cause more tension in Europe. President Vladimir Putin cited NATO's refusal to rule out further expansion as one of the causes of Moscow's campaign against Ukraine.
NATO, meanwhile, has maintained that it is a purely defensive alliance and does not pose a threat to Russia. However, many of the bloc's members have imposed sweeping sanctions on Moscow and have been supplying Kiev with heavy weapons, including tanks, howitzers, and multiple rocket launchers. Moscow has insisted that the flow of foreign arms will only prolong the fighting in Ukraine, but will not change the course of the conflict.
You can share this story on social media: