Trump responds to New York criminal charges
The former US president has pleaded not guilty to all 34 counts in the indictment against him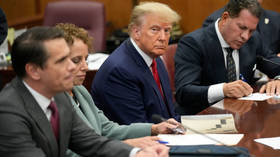 Former US President Donald Trump has entered not guilty pleas on all 34 criminal charges against him after surrendering for arrest in a New York City case stemming from his alleged 2016 hush-money payment to porn star Stormy Daniels.
Trump, 76, was arraigned on Tuesday in a Manhattan courtroom, becoming the first president in US history to face criminal prosecution. His lawyers have denounced the indictment as a politically-driven "witch hunt" perpetrated by District Attorney Alvin Bragg, a Democrat who ran for office on a pledge to prosecute the former leader and whose campaign was funded largely by billionaire activist George Soros.
Trump reportedly sat with his hands folded, flanked by his lawyers, as he said "not guilty" when asked how he pleaded to the charges. Prior to the court hearing, he waved to a crowd gathered outside the courthouse after being driven in a motorcade from his home at Trump Tower in Manhattan. He held his fist in the air as he left Trump Tower in front of reporters. He ignored questions as he left the courtroom.
⚡️Donald Trump was filmed heading to the court house from his Manhattan Trump Tower. He is facing a total of 34 criminal charges over the alleged role in paying hush money to an adult film actress pic.twitter.com/VcmqAEsLki

— RT (@RT_com) April 4, 2023
A Manhattan grand jury voted last week to indict Trump on 34 charges of falsifying business records in connection with a $130,000 payment to Daniels. The payment was allegedly made by Trump's then-lawyer, Michael Cohen, to buy Daniels' silence about an affair with the billionaire, who was on his way to winning the 2016 presidential election at the time. Trump has denied any wrongdoing.
"Heading to Lower Manhattan, the courthouse," Trump said in a Truth Social post on his way to court on Tuesday. "Wow, they are going to arrest me. Can't believe this is happening in America. MAGA!"
Trump critics have argued that the indictment shows that no one is above the law in America. However, the case may be the beginning of a new chapter for the US political system, as it marks the arrest not only of a former president, but also the leading opposition-party candidate in the 2024 presidential election.
Mexican President Andres Manuel Lopez Obrador has decried the prosecution of Trump, arguing that US Democrats are using the legal system to block a political opponent from being elected. "This is completely anti-democratic . . . Why not allow the people to decide?"
You can share this story on social media: