UK goes easy on opposition-backed Russian oligarch
London has dropped two charges against sanctioned businessman Mikhail Fridman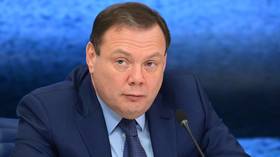 Britain's National Crime Agency (NCA) has reportedly stopped investigating two out of the three allegations against Mikhail Fridman, just weeks after he revealed the letters of support he received from prominent Russian opposition activists, including Alexey Navalny's top aides.
The NCA has dropped the probe against Fridman for conspiracy to commit perjury and conspiracy to defraud the Home Office, the Financial Times reported on Tuesday. The 58-year-old banker is still being investigated for alleged money-laundering.
FT described the decision as a "setback" for the agency's "anti-kleptocracy" cell, set up to pursue "Kremlin-linked individuals" and Russians trying to evade Western sanctions over the conflict in Ukraine.
The Ukraine-born Fridman made his fortune in Russia, investing in banking, retail, oil and other fields before moving to London in 2015. He left Russia shortly after the conflict in Ukraine escalated in February 2022, insisting he had no ties to President Vladimir Putin. He was nonetheless included on the EU sanctions list, due to his stake in Alfa Bank.
Fridman has challenged his inclusion on the blacklist before the European Court of Human Rights, along with several other Russian 'oligarchs'. Under the sanctions, he is limited to an allowance of £2,000 ($2,500) a month.
In early December 2022, more than 50 NCA officers raided his home in London's Highgate. Fridman was arrested but released on bail shortly thereafter. He has continued to dispute the legality of the search warrant with the NCA, and reportedly described the sanctions and the investigation as part of a pressure campaign to force him back to Russia.
Fridman has also made a series of moves to encourage London and Brussels to drop the sanctions. He and his business partner, Pyotr Aven, leaked to the press earlier this month that they were planning to divest from their share in Alfa Bank.
On March 14, Fridman also revealed the existence of multiple letters from various Russian opposition activists – including Nobel Prize winner Dmitry Muratov and two executives from Alexey Navalny's Anti-Corruption Foundation. Navalny's top aide, Leonid Volkov, resigned from the foundation due to backlash, calling the letter "a big political mistake."
The foundation's executive director, Vladimir Ashurkov, who also signed a document on Fridman's behalf last year, said the letters did not call for the removal of sanctions, but argued it would be useful for the purpose of "splitting elites" and getting the "relatively healthy" businessmen to denounce the Kremlin.
UK and European policymakers told FT, however, that inducing behavior change was "simply not the point" of the sanctions against Russia.
You can share this story on social media: