New York Times 'unreadable propaganda' – Musk
The Twitter CEO revoked the newspaper's 'verified' badge after it refused to pay for the privilege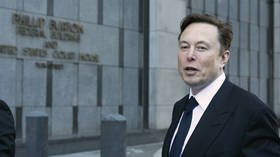 Twitter CEO Elon Musk has branded the New York Times "unreadable propaganda" after the newspaper refused to pay for verification. Earlier, Twitter began removing its iconic blue checkmarks from accounts that had received the badge before Musk's subscription system was introduced.
Twitter announced last month that, as of Saturday, it would begin removing "legacy verified checkmarks" from accounts that were verified before Musk announced his subscription system last year. The New York Times declared on Thursday that it would not pay the $1,000 per month required of businesses, or reimburse its employees for signing up for Twitter's $8 per month personal plan.
The New York Times' @nytimes account lost its checkmark on Saturday, meaning its tweets will no longer show up in the 'for you' tab, the default timeline where Twitter users see content from accounts they follow.
Tweeting on Saturday, Musk suggested that the vanishing of Tweets from the Times would be no great loss for most users.
"The real tragedy of @NYTimes is that their propaganda isn't even interesting," the billionaire declared. "Also, their feed is the Twitter equivalent of diarrhea. It's unreadable."
"They would have far more real followers if they only posted their top articles," Musk continued, adding that the "same applies to all publications."
The New York Times is one of a number of US newspapers and news outlets boycotting the paid verification system. The White House is also refusing to pay for blue checkmarks for its staffers, according to a report by Axios on Friday.
Musk purchased Twitter for $44 billion last October, promising a host of reforms that would roll back the platform's censorship policies and make it a "digital town square" for free and open debate. While he has restored hundreds of previously banned accounts – including that of former US President Donald Trump – and relaxed Twitter's content moderation rules, he has simultaneously struggled to boost the platform's declining revenue.
Despite Musk rolling out paid subscriptions and firing around three quarters of Twitter's staff, the company is currently worth half of what Musk paid for it last year, according to the Wall Street Journal.
Musk has previously clashed with the New York Times and suspended reporter for the paper, Ryan Mac, in December for sharing information about the billionaire's whereabouts.
"Criticizing me all day long is totally fine, but doxxing my real-time location and endangering my family is not," Musk tweeted at the time.
You can share this story on social media: