Nashville school shooting: A violent new phase of America's victimhood culture is only going to get uglier
Constant hyping of make-believe demons and fake fears has spawned loose cannons, perhaps including a transgender school shooter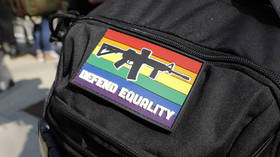 Police say Audrey Hale had "some resentment" about having been made to attend a Christian elementary school as a youngster growing up in Tennessee, which may have been the reason she returned nearly two decades later to shoot the place up, killing three children and three staffers.
Hale was a 28-year-old transgender person who, like millions of Americans, identified as being a victim, and Monday's shooting at Covenant School in south Nashville's tony Green Hills neighborhood was to be the first of multiple places to settle her grudges with the world. Her careful planning for the attack included other targets, such as a mall, according to police, who fatally shot Hale before she could kill any more people.
Hale, who had reportedly begun identifying as a male and going by the name 'Aiden', wrote a manifesto before her shooting spree, but police haven't yet released the document. Note: Police have referred to Hale as a "she," while legacy media outlets have largely done the same or avoided referring to her by pronouns. Transgender activists have argued that male pronouns should be used, as Hale allegedly preferred, but to keep things simpler, I'll stick with 'she' and 'her' for the purpose of this discussion.
Besides writing her manifesto, Hale sent a social media message to a childhood friend shortly before setting off on Monday's mission of murder, saying she was leaving behind more than enough evidence for people to make sense of what she was about to do. The public hasn't yet seen that information, either, but advocates of transgender ideology have already tried to justify her killing of three nine-year-old children and three school employees.
"Hate has consequences," an activist group called the Trans Resistance Network said in reaction to the shooting. The group speculated that Hale "had no other effective way to be seen than to lash out by taking the life of others and, by consequence, himself." The network also claimed that conservative political figures have called for "nothing less than the genocidal eradication of trans people from society."
This is a common theme among leftist groups that represent themselves as defenders of various categories of people whom they see as needing protection – from non-white racial segments to gays to women to transgenders. America has become like the victimhood Olympics, where millions of people in need of attention and sympathy compete to show which protectorate is most afflicted. Perhaps that's why 'intersectionality' has become one of the buzzwords, because claiming just one source of victimhood isn't enough for many people.
Our sick society rewards those who flock to the protection of their victim groups, providing them dopamine hits on social media, favoritism in hiring and college admissions, and special callouts from government officials touting how brave and mistreated they are. President Joe Biden went so far on Friday, in the wake of the Nashville massacre, as to say that transgender people "shape our nation's soul."
Those who don't confess to needing such shelter from the haters – such as a black woman who works as a conservative commentator and a gay Asian journalist who exposes far-left political violence – are essentially excommunicated as members of their minority groups and condemned as far-right bigots.
The problem is, in the victimhood Olympics, there's always pressure to set the bar higher. It's like an arms race of grievances. Whereas it might have been good enough before to claim the haters were cheating your group out of career opportunities or stopping you from getting married, today's victims are told that their enemies want them dead and won't stop until they're wiped from the face of the earth.
A viral TikTok video posted this week by a transgender activist illustrates the overwrought victim mentality. "Trans genocide is around the corner," the activist shouts in call to action for transgender people in Tennessee. "Stop debating cis people on your existence . . . . We fu*king fight now or we die." The activist advises transgender people to always carry a gun and gang up to fight anyone who tries to arrest them "for existing." "We're going to die anyway," the person adds. "It's time to fu*king resist."
It's not clear what basis such activists have for believing that someone plans to kill them or arrest them for being transgender. An advocacy group called Human Rights Campaign claims that 302 gender-nonconforming people were killed in the US in the past decade. A large portion of those murders involved transgender women working as prostitutes.
In any case, around 30 murders a year nationwide, or even 60 or 90, does not a genocide make. According to one study, there are an estimated 1.6 million transgender people over the age of 13 in the US, which means that about one in over 50,000 is killed in a given year. That equates to a homicide rate of less than two murders of transgender people per 100,000 transgender people in the population. The US homicide rate for the overall population is 7.8 per 100,000, according to CDC data. To put the transgender death toll of 30 in perspective, consider that around 200 Americans die each year from constipation.
Nevertheless, activist and advocacy groups would have us believe that transgender people are under siege. A coalition of groups called the Trans Radical Activist Network (TRAN) had planned to hold the 'Trans Day of Vengeance' on Saturday in Washington to "stop trans genocide" and raise money for weapons training. The event was canceled after TRAN reported receiving threatening messages following Monday's school shooting, but transgender-rights demonstrations were held in other cities, including one that reportedly blocked traffic in Los Angeles.
Ironically, the Twitter accounts of Republican congresswoman Marjorie Taylor Greene and journalists who exposed the 'Trans Day of Vengeance' were suspended. "I've been locked out while the organizers and promoters of the event . . . is still on Twitter," journalist Andy Ngo said.
Transgender activists have raised alarms about new legislation in multiple Republican-controlled states. For instance, earlier this month, Tennessee enacted a ban on sex-change surgeries and other "gender-affirming" medical interventions for children. Governor Bill Lee also signed into law a bill prohibiting adult drag queen shows for minors on public property. However, none of the bills denies the existence of transgender people or calls for the arrest of people based on their gender identity.
Not to be deterred by reality, pandering politicians and media outlets have continued to rail against the make-believe threats. Two days after the Nashville murders, Democrat congresswoman Katherine Clark gave a speech decrying a "vicious crusade" against transgender people by Republican elected officials. Incidentally, Clark's nonbinary daughter, Jared 'Riley' Dowell, was arrested in January for allegedly assaulting a police officer while being arrested for vandalizing an historic monument in Boston.
Some observers took the victim mentality even further in the wake of the Covenant School attack. Josselyn Berry, press secretary for Arizona Governor Katie Hobbs, reacted the next day by posting a viral Twitter message showing a photo of a woman pointing two handguns. The caption said, "Us when we see transphobes." She resigned under pressure on Wednesday.
Hale is hardly the first gender-dysphoric American to carry out or attempt a violent attack. Anderson Lee Aldrich, also known as 'Mx. Aldrich', the person charged with killing five people and injuring 18 at a Colorado LGBTQ nightclub last November, is nonbinary, according to court filings. Nicholas John Roske, the armed Californian arrested outside US Supreme Court Justice Brett Kavanaugh's Maryland home last June, reportedly identifies as a transgender woman and goes by the name 'Sophie'.
A 2022 study by researchers at two universities in Quebec found that college students who identify as transgender are at higher risk of "violent radicalization" than their cisgender peers. A T-shirt favored by transgender activists shows the words "Trans rights" at the top and ". . . or else" at the bottom. In between, there are five rifles.
America is becoming a factory producing dangerously aggrieved victims like Hale, and the increasing violence won't be limited to transgender perpetrators. In a nation where power-seekers promote fear to turn armies of panicked followers against their enemies, resentment can quickly turn to carnage, leaving the real victims dead.
The statements, views and opinions expressed in this column are solely those of the author and do not necessarily represent those of RT.
You can share this story on social media: