Nashville shooter hid seven guns at home – police
The killer was being treated for an "emotional disorder" and should not have owned weapons, according to parents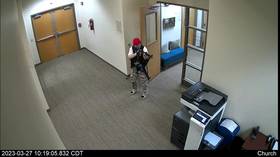 Audrey Hale, the transgender person who shot and killed six people at Covenant School in Nashville, was being treated for an "emotional disorder" when the 28-year-old purchased seven guns from five different gun shops and stashed them at home, Metro Nashville Police Chief John Drake revealed during a press conference on Tuesday.
Hale's parents believed their child "should not own weapons," Drake said. However, they were only aware of one gun Hale had bought and sold, while in reality there were seven more hidden around the house, at least two of which police believe were obtained legally.
Three of the guns – two semiautomatic rifles and a handgun – were used in Monday's shooting, which left three nine-year-old students dead, as well as a substitute teacher, the head of the school, and a custodian. A sawed-off shotgun and another shotgun were found at Hale's home, along with "other evidence."
A former student at the private Christian school, Hale had planned the attack on Coventry in great detail, Drake explained, referring to "drawn out" maps of the school with references to entry points and surveillance. The shooter had apparently evaluated a second potential attack site in Nashville, but ultimately decided against it because "there's too much security."
The killer was "someone that had multiple rounds of ammunition, prepared for confrontation with law enforcement, prepared to do more harm than was actually done," the police chief said. While Hale's motive in the shooting is not yet known, police are reportedly investigating a "theory" and have talked with the killer's father.
Hale reportedly messaged a childhood friend on Instagram before embarking on the massacre, telling Averianna Patton "I'm planning to die today" and "I've left more than enough evidence behind." Attempting to untangle the confusion that has since arisen about the shooter's gender, Patton clarified that she had known Hale as female when the two were young but that Hale used masculine pronouns on social media.
Police arrived on the scene and fatally shot Hale less than 15 minutes after the first 911 call from the school. Body camera footage from the two officers who killed the shooter was released on Tuesday. Drake praised the officers for their quick response.
You can share this story on social media: