Police identify Nashville school shooter
A 28-year-old transgender person killed six, including three children, at a Christian elementary school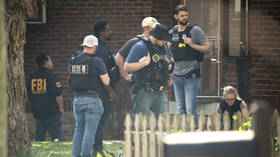 The authorities in Nashville, Tennessee have identified the person who killed three students and three teachers at the Covenant School on Monday morning as Audrey Hale. The 28-year-old was said to have been a former student at the Christian elementary school, and identified as a transgender man.
Initial reports spoke of a "teenage woman" as the attacker, who was fatally shot by the responding officers. Police Chief John Drake told reporters that Hale was armed with two rifles and a handgun, and opened fire after using a side entrance.
During a search of Hale's home, police discovered a plan of attack on the school. Another location, which police did not identify, was also considered as a potential target, until Hale decided the security presence was too strong.
Police also found a manifesto, but have not shared any of its contents. Hale had no prior criminal history "at all," Drake said, while two of the weapons were "obtained locally, legally."
Hale's rampage was cut short by two officers, who "went to the sounds of gunfire" and "engaged the shooter on the second floor," according to Nashville police.
Police also identified all six victims of Hale's rampage – three students and three faculty at the Covenant School. They were named as nine-year-old Evelyn Dieckhaus, Hallie Scruggs, and William Kinney, as well as Cynthia Peak (61), Katherine Koonce (60), and Mike Hill (61).
The school is run by the Covenant Presbyterian Church, and serves children ages 6-12. It has more than 200 students and 40 staff.
Earlier this month, Tennessee banned transgender surgeries on minors and adult performances (such as 'drag queen story hour') in front of children. In response, the Virginia-based Trans Radical Activist Network (TRAN) called for a 'Trans Day of Vengeance' to "Stop trans genocide" on April 1 in Washington, DC and announced a fundraiser for firearms training.
The White House responded to the Covenant School shooting by calling for stricter gun control laws.
You can share this story on social media: