Six killed in latest US school shooting
A female suspect has been fatally shot by police in Nashville, Tennessee, after murdering three children and three adults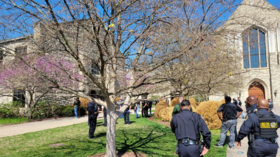 At least six people have been killed in America's latest mass shooting, an incident at a private Christian elementary school in Nashville, Tennessee, that reportedly ended with the suspect being shot dead by police on Monday.
Three children and three adult staff members were murdered in the shooting, which began around 10 a.m. at Covenant School in southwest Nashville's Green Hills neighborhood, Metropolitan Nashville Police Department spokesman Don Aaron told reporters. The unidentified shooter was female and appeared to be in her teens.
Responding officers were clearing the school's first floor when they heard shots fired from the second level, Aaron said. A team of five officers "immediately went to the gunfire" and saw the shooter firing her weapon. Two of the officers shot the suspect, killing her within 14 minutes of receiving the first emergency call about the incident, the spokesman said.
The shooter entered the school through a side door and began firing multiple shots as she traversed to the second story. She was armed with two assault rifles and at least one handgun.
Police and Nashville Fire Department officials directed parents of Covenant School students to a nearby staging area, at Woodmont Baptist Church, to be reunited with their children.
Founded in 2001, the Covenant School is a ministry of the Covenant Presbyterian Church, which is located in the same complex. The school serves children from preschool age through 6th grade. It has more than 200 students and 40 staff members.
The US has had dozens of school shootings in the past year, leading to increased calls for new restrictions on gun ownership. The US Congress last June passed the country's first major gun control legislation in nearly three decades. Momentum for that bill was triggered by a school shooting in Uvalde, Texas, that killed 19 children and two teachers.
You can share this story on social media: