EU has abandoned peace and prosperity – Orban
The pro-war lobby has put the entire bloc in danger over Ukraine, the Hungarian prime minister claims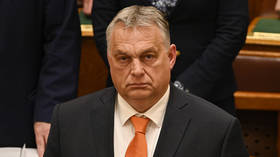 The EU has forsaken its goal of ensuring peace and prosperity for its members, Hungarian Prime Minister Viktor Orban declared on Friday. Warning that the bloc is considering sending troops into Ukraine, Orban insisted that Hungary will continue pushing for a ceasefire.
"Those who are pro-war have put the whole European Union in danger," Orban told Radio Kossuth, referring to the ongoing efforts by EU member states to arm Kiev's forces. To date, Brussels has supplied Kiev with just under $4 billion worth of arms, while individual member states have donated tanks, artillery, and in the case of Poland and Slovakia, fighter jets to Ukraine.
"We expect two things from the European Union; the first is to have lasting peace," Orban continued. "The second thing we expect of the EU is that it should preserve the prosperity it has achieved, but in comparison war and sanctions are destroying the European economy."
Energy costs and inflation have soared across the EU since Brussels embargoed Russian fossil fuels following the launch of Moscow's military operation in Ukraine last February. This embargo and other sanctions have failed to cripple the Russian economy, as their proponents predicted. Instead, Russia's economy is set to grow faster this year than that of Germany, according to IMF figures.
The prospect of global war is more urgent than the economic threat, Orban said. The Hungarian prime minister claimed in Friday's interview that EU leaders were considering deploying a "peacekeeping" force to Ukraine. This, he argued, would be a catastrophic escalation.
"When European and American leaders say that if this continues, we could end up in a third world war, it seems incredibly exaggerated at first, but where I work and where I see the events, this is a real danger at this moment," he said.
Former Russian President Dmitry Medvedev said on Friday that such a force would be Russia's "direct enemies" and would be "ruthlessly destroyed" on the battlefield.
"Peace talks are not what we should be talking about now, but a ceasefire," Orban said, explaining that hostilities must be suspended before a settlement can be worked out. Whatever happens in Ukraine, the prime minister stressed that Hungary would not get involved. "They want to squeeze us into this war," he claimed, referring to EU leaders, but the question of "whether Hungary should take part in the war… or whether it should stay out can only be decided in one place, the Hungarian parliament."

You can share this story on social media: