EU country considering Olympic boycott
Poland will continue to resist attempts by the IOC to reinstate Russian athletes at international events, its sports minister has said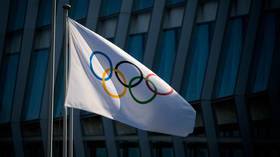 Warsaw could boycott the Olympic Games if the International Olympic Committee (IOC) allows Russian and Belarusian athletes to compete, Polish Sports Minister Kamil Bortniczuk has stated.
The IOC issued a set of "recommendations" to international sports federations on Tuesday regarding athletes from Russia and Belarus, who were banned from competition shortly after the outbreak of the conflict in Ukraine last February.
Olympic bosses suggested that Russians and Belarusians should be allowed to take part in tournaments abroad under a neutral flag, provided they have no links to the military or security agencies, and haven't vocally supported Russia's military operation. The guidelines only refer to individual athletes, not teams, which should still be banned, they said.
Speaking to RMF24 radio on Thursday, Bortniczuk claimed those "recommendations" would have been far more lenient towards Russian and Belarusian athletes if Poland had not threatened the IOC with a boycott. "I know what this statement was originally supposed to be and what it ended up being," he stated.
"The issue of the boycott must remain central in our contacts with the IOC because they're afraid of it," the sports minister added.
However, Bortniczuk said he was "99% convinced that the boycott will not be necessary." Warsaw, which has been one of Kiev's strongest backers amid its conflict with Moscow, "will win this fight" without resorting to such harsh measures, he claimed.
Poland is scheduled to host a stage of the Fencing World Cup in Poznan in April, in which the International Fencing Federation (FIE) has allowed Russian athletes to compete under neutral status.
Warsaw had earlier warned that it could cancel the event altogether in protest over the move. Bortniczuk now says Russians will be permitted to compete in Poznan, but only if they "sign a certain declaration" in which they reject Moscow's military operation and condemn what he called Russian "war crimes" in Ukraine.
Moscow is also dissatisfied with the IOC's recommendations. Russian Olympic Committee (ROC) President Stanislav Pozdnyakov described them as a "human rights abuse" and a breach of Olympic principles and the UN charter. "We consider the proposed conditions unreasonable, legally void and excessive," he said.
You can share this story on social media: