Ukrainian athletes stopped from staging political stunt
Officials at a fencing World Cup event in Nanjing prevented a group of sportswomen from posing in front of an anti-Russian banner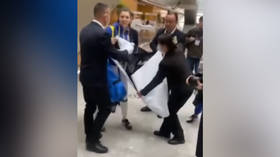 A group of female Ukrainian fencers participating at a major international competition in the Chinese city of Nanjing, was blocked from taking a picture in front of a banner condemning Russia's military campaign, the National Fencing Federation of Ukraine (NFFU) said on Sunday.
In a post on Facebook, the organization said that Ukrainian fencers at the Women's Epee World Cup had wanted to pose for a photo with a poster dubbed the 'Angels of Sport', which it said showed the number of "Ukrainian athletes killed by Russia."
Despite the athletes' efforts, "representatives of the FIE [International Fencing Federation] did not allow this to be done," the NFFU said.
The decision triggered outrage from the Ukrainian athletes, with fencer Darya Varfolomeeva claiming that "Russia violates all Olympic values," while accusing Moscow of destroying hundreds of sports facilities in her country. Russia has repeatedly insisted it only attacks targets that enhance Ukraine's military capacity.
Footage of the incident released by the NFFU shows FIE workers trying to roll up the controversial banner as the Ukrainian athletes resist while saying: "You can't buy us."
Earlier this month, the FIE voted by a comfortable margin to overturn the ban on Russian and Belarusian fencers competing at the federation's events.
Athletes from both countries have been prohibited from taking part in many sports events over the past year following advice issued by the International Olympic Committee (IOC) shortly after Russia started its military campaign against Ukraine in February 2022.
Last week, the NFFU announced that it would boycott all FIE competitions in which Russian and Belarusian athletes are allowed to take part. It added that not only would Ukrainian athletes skip such events, but coaches and judges from the country would as well.
In January, the IOC outlined a multi-step plan for Russian and Belarusian athletes to take part in the 2024 Summer Olympic Games in Paris. The roadmap was met with strong criticism from Western countries and Ukraine. However, last week, IOC President Thomas Bach defended the initiative, urging the world's politicians to "keep politics and sports apart" amid the Ukraine conflict.
You can share this story on social media: