UK newspaper apologizes for slavery links
The Guardian has expressed remorse after research showed its founder had ties to the 19th century slave trade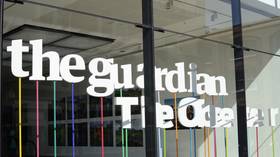 The Scott Trust, proprietor of UK newspaper The Guardian, has issued an apology after it was discovered that the publication's founder John Edward Taylor, as well as the majority of its early financial backers, had demonstrable links to transatlantic slavery in the 1800s.
The findings of the independently researched Scott Trust Legacies of Enslavement report, which was published on Tuesday, showed that Taylor, as well at least nine of paper's 11 early financiers, had ties to merchant companies which imported significant quantities of raw cotton, harvested by slaves in North and South America in the 19th century.
"We are facing up to, and apologizing for, the fact that our founder and those who funded him drew their wealth from a practice that was a crime against humanity," Katharine Viner, editor-in-chief of Guardian News & Media, wrote on Tuesday.
Viner added that the findings of the report must "reinforce" the newspaper's commitment to "expose racism, injustice and inequality." The newspaper also expressed its remorse at early editorial positions taken in support of the cotton industry at the time.
The research, undertaken by academics at the universities of Nottingham and Hull, showed that Taylor had conducted business with cotton plantations in South Carolina and Georgia. One of the financial backers, Sir George Phillips, was the co-owner of a sugar plantation in Jamaica, the report also claimed.
It added that in 1835, Phillips launched an ultimately unsuccessful appeal to the British government to claim financial compensation for the "loss" of 108 people who were referred to as "human property."
"The Scott Trust is deeply sorry for the role John Edward Taylor and his backers played in the cotton trade," the group's chair, Ole Jacob Sunde, said via The Guardian on Tuesday. "We recognize that apologizing and sharing these facts transparently is only the first step in addressing The Guardian's historical links to slavery."
The newspaper also revealed that it is to launch a decade-long 'restorative justice fund' which will support groups associated with slavery in the Americas and the Caribbean.
The program will also pursue goals of raising awareness of the history of transatlantic slavery, funding further academic research and expanding the breadth of the newspaper's reporting of issues concerning black communities.
You can share this story on social media: