Why US efforts to reduce Israel-Palestine tensions keep failing
The latest Washington-sponsored summit aims to bring stability to the Middle East, but is based on outdated policies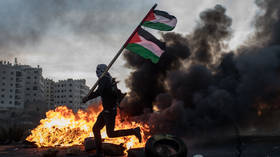 US-sponsored dialogue between the Palestinian Authority and Israel is proving ineffective due to recent developments, but Washington refuses to adapt its policy approach.
Last Sunday, Palestinian Authority (PA) officials met with their Israeli counterparts in the Egyptian city of Sharm el-Sheikh seeking to reduce tensions between both sides in the next 4-6 months. Egyptian, Jordanian, and US officials also took part in the discussions, which served as a continuation of a similar US-sponsored security summit, held in Aqaba, Jordan, in February. The US State Department released a Joint Communique on March 19, confirming that all sides in Sharm el-Sheikh had agreed on a number of relatively ambiguous steps to reach a state of calm in the Holy Land.
The summit, despite its hopefully worded intentions, has so far failed to have any real impact on the ground in terms of bringing about calm between Palestinians and Israelis. Shortly after the meeting, a Palestinian gunman opened fire on Israeli settlers in the West Bank town of Hawara. This again triggered violent attacks by Israeli settlers against Palestinians in surrounding villages.
A similar incident took place during February's Aqaba summit. Then the settlers' retaliatory attacks were dubbed a "pogrom", and while the latest ones weren't quite as severe, they continued to inspire further confrontation.
The Biden administration has sent a number of delegations to the region in recent months, the most high profile visits coming from US secretary of State Antony Blinken and Pentagon Chief Lloyd Austin. Following both visits and despite declarations through the media that Israel had committed to respecting Washington's calls to halt illegal settlement expansion and violent military raids inside the West Bank, the leadership in Tel Aviv* demonstrated the very opposite.
On the Palestinian Authority side, the US has presented what is now known as the Fenzel Plan, which seeks to create an American-trained PA force that will tackle newly-formed Palestinian armed groups inside the West Bank. The problem with such a plan is that it is nearly impossible to execute, due to widespread public opposition to it inside the occupied territories and overwhelming public support for the armed groups. It could even result in an insurrection against the PA itself.
Washington's position on the conflict continues to pay lip service to a two-state solution, but with the caveat that the Biden administration refuses to condition its support for Israel and punish Tel Aviv for crossing its own red-lines. In the past, due to the relative stability of the Israeli political scene and pragmatism of successive Israeli government's, Tel Aviv was capable of violating US red-lines on issues such as settlement expansion and conflict escalation, because it was always able to take concise and calculated steps that kept any violent uptick under its control. Today's reality is something very different. Prime Minister Benjamin Netanyahu's new government is maintaining its power through acceding to the demands of the Religious Zionism party, which holds the second largest number of seats in the ruling coalition.
Netanyahu is facing mass opposition and civil disobedience from hundreds of thousands of Israelis who oppose his government's proposed judicial reforms. These reforms, if enacted, will essentially eliminate the Israeli supreme court's supervisory role over the government, sparking dissent even from within Israel's reserve army and airforce. Meanwhile, the same far-right coalition partners of Netanyahu's Likud party-led government that are pushing for the judicial reforms are also pushing their anti-Palestinian agenda.
Israeli finance minister, Bezalel Smotrich, who also has special oversight over the West Bank, has an Israeli settler background and his politics are not calculated like his Likud party allies. Recently, Smotrich was forced to apologize after calling on the government to "erase" an entire Palestinian town, immediately after extremist settlers had burned down hundreds of homes and vehicles there.
Following the Sharm el-Sheikh security summit, which aimed to bring Jordan closer to Israel in order to effect calm, Smotrich delivered a speech in Paris where he stated "there were no such thing as Palestinian people", while standing next to a map, which included parts of Jordan, Syria, and Saudi Arabia, as constituting Israel. The Jordanian parliament responded by voting to recommend the expulsion of Israel's ambassador.
Similarly, Israel's security minister, Itamar Ben Gvir, who is also a West Bank settler, provoked Jordan's ire at the United Nations Security Council after a provocative incursion into the al-Aqsa Mosque in January. The Israeli government has already tabled two major pieces of anti-Palestinian legislation which have so far passed the preliminary stage and which seek to introduce both the death penalty and the stripping of citizenship from Palestinians inside Israel, if they commit an attack on Israelis. Itamar Ben Gvir has also introduced new hardline tactics to punish Palestinian political prisoners, sparking civil disobedience and the declaration of a widespread hunger strike.
Israeli PM Benjamin Netanyahu is, in essence, being held hostage by the extremists in his coalition. Not only does the survival of his government depend upon the support of the Religious Zionism party, they could also keep him safe from criminal prosecution in his ongoing corruption trial if they pass legislation granting immunity to the sitting PM. The issue of the newly proposed judicial reforms provides important context. Israeli President Isaac Herzog has warned the reforms could spark civil war if passed. If the PM does not back down over those implications, there is almost no hope that he will prevent the escalatory measures that Religious Zionism ministers are calling for against Palestinians, through a non-binding dialogue with the US, PA, Jordan, and Egypt.
The current US government's unconditional support for Israel not only gives the Netanyahu government a green light to escalate tensions when it deems it necessary, but it also isolates regional players such as Jordan and Egypt.
Close US relations with Amman and Cairo play an integral part in maintaining Washington's influence in the Middle East, however, its outdated Israel policy may end up challenging these alliances too. Throwing money at the PA to cooperate further with Israel and to form a special force to fight Palestinian armed groups will not prevent the continuation of armed struggle in the West Bank either. The only way forward is playing a balanced hand, which US President Joe Biden is clearly refusing to do.
The statements, views and opinions expressed in this column are solely those of the author and do not necessarily represent those of RT.
You can share this story on social media: