Israeli minister claims there's 'no such thing' as Palestinians
Bezalel Smotrich has alleged that the notion of seperate people is "an invention that is less than 100 years old"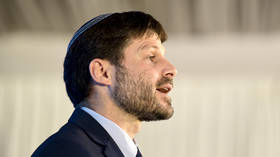 There's no such thing as Palestinian history or culture, and the Palestinians are not a legitimate ethnic group, Israeli Finance Minister Bezalel Smotrich has claimed. The hardline politician, who is tasked with the administration of the occupied West Bank, made the inflammatory remarks on Sunday during a visit to France.
Smotrich was speaking at a memorial event commemorating Jacques Kupfer, a prominent Zionist and activist with the right-wing Likud Party, who died back in 2021. The minister delivered his speech while standing at a lectern draped with a flag depicting a variation of the so-called 'Greater Israel' map that appears to include the West Bank, East Jerusalem, Gaza and Jordan, footage of the event, which was widely shared online, shows.
"Is there a Palestinian history or culture? There is none. There is no such thing as a Palestinian people," the politician stated, scoring applause from the audience.
The Palestinian people is an invention that is less than 100 years old.
Smotrich, a settler in the occupied West Bank himself, also claimed to be a real Palestinian, while describing his late grandfather as a "13th generation Jerusalemite" and a "true Palestinian."
The controversial remarks drew the ire of Palestinian officials, who condemned them as "racist" and "extremist." Palestine's Foreign Ministry condemned Smotrich's denial of the existence of the Palestinians, stating that such statements "foster an environment that fuels Jewish extremism and terrorism against our people."
This is the second major controversy that Smotrich, well-known for his hardline Zionist stance and repeated anti-Palestinian remarks, has ignited this month. Early in the month, the minister called for "wiping out" the Palestinian town of Huwara, which saw riots by Israeli settlers following the shooting of two settlers by a Palestinian gunman. The rioting claimed the life of at least one Palestinian resident of Huwara.
The remarks received widespread condemnation, prompting the minister to backtrack and claim he "did not mean that the town of Huwara should be wiped out," but that Israel should "act in a targeted manner against terrorists and supporters of terrorism."
You can share this story on social media: