Palestinians killed in West Bank raid
Israeli forces say they were searching for militants suspected of plotting a mass shooting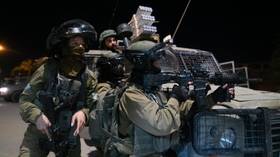 Several people have been killed by Israeli troops during a raid on a refugee camp in the occupied West Bank, the Israel Defense Forces (IDF) has confirmed, claiming the slain men were "armed terrorists." The Palestinian Authority condemned the operation as a "crime," while local militants vowed to respond in force.
The IDF stated it carried out the raid in the early hours of Monday morning alongside members of the Shin Bet, Israel's internal security service, targeting a home inside the Aqbat Jabr refugee camp near the city of Jericho. Gunfire allegedly erupted from the house as Israeli troops approached, resulting in a firefight.
"The purpose of the operation was to stop a Hamas terrorist cell that carried out the shooting attack on a restaurant in Jericho on January 28, 2023," the military added, claiming the gunmen had planned a "mass murder campaign."
The IDF also shared footage captured during the mission, filmed from soldiers' helmet cameras. At one point, the sound of gunfire can be heard amid the chaos.
Though the January 28 incident ended with no casualties, as the assailants quickly fled after one of their guns jammed, the IDF said the suspects had been hiding away in the Aqbat Jabr camp in the days since "while declaring their intention to continue to attack."
Palestinian President Mahmoud Abbas later noted the raid, saying "The new Israeli government is continuing its series of crimes against our Palestinian people."
Following a similar violent incursion in another refugee camp in Jenin last month which left ten people dead, the Palestinian Authority – a governing body which exercises limited control in the occupied region – declared that it would halt all security cooperation with the Israeli government. The earlier raid prompted clashes between Palestinian fighters and the IDF, seeing a salvo of rockets fired from Gaza, while Israel responded with airstrikes.
The Palestinian Health Ministry confirmed that five people were killed in the raid on Monday, while Hamas, the political party and militant group which controls Gaza, said all were members of its armed wing.
"Our people and their resistance will not delay in responding to this crime," Hamas spokesman Hazem Qassem said.
According to the governor of Jericho, Jihad Abu al-Assal, eight people were arrested in addition to the five killed, and the bodies of the dead are still in the IDF's custody.
Violence has continued to spiral since the deadly raid on Jenin last month, which Israeli officials say targeted a "terror squad" that had been planning an attack. Soon after the operation, a Palestinian man opened fire on Jewish worshippers at a synagogue in occupied Jerusalem, leaving seven dead, while a Palestinian teenager shot and wounded two Israelis the following day.
In addition to its retaliatory airstrikes on Gaza, the IDF has carried out a flurry of raids in the West Bank in recent months, killing a total of 41 Palestinians so far in 2023, according to the Israeli rights group B'Tselem.
You can share this story on social media: