Seymour Hersh makes new Nord Stream sabotage claim
The Pulitzer Prize winner has alleged the US blew up the pipelines because it was unhappy with a lack of German support for Ukraine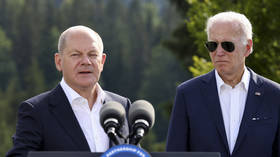 US President Joe Biden ordered the sabotage of the Nord Stream pipelines because he was unhappy with the level of support provided by German Chancellor Olaf Scholz to Ukraine in its conflict with Russia, veteran investigative journalist Seymour Hersh has claimed.
Hersh first accused Washington of destroying the key European energy route in an article released in February, and made more allegations in an interview with the China Daily newspaper published on Friday.
"The [US] president was afraid of Chancellor Scholz not wanting to put more guns and more arms [forward for Kiev]. That's all. I don't know whether that it was anger or punishment, but the net effect is that it cut off a major power source through Western Europe," Hersh claimed.
Despite attempts by the US to deny its involvement in the Nord Stream attack, "Europe is in crisis now" and Biden will receive "a lot of criticism for what he did" in the coming months, the journalist argued.
The Pulitzer Prize winner alleged that "the people that were initially asked to do the job" of destroying the pipelines were contacted by US National Security Advisor Jake Sullivan towards the end of 2021.
The initial purpose of mining Nord Stream 1 and 2, built to deliver Russian gas to Europe through Germany, was "to give the [US] president an option to say to [Russian] President Putin, 'If you go to war [in Ukraine], we're going to destroy the pipelines,'" Hersh claimed.
Biden himself publicly confirmed that stance but "unfortunately, those people in the Western press seemed to have forgotten," the journalist stated.
Just under three weeks before the launch of Moscow's military operation in Ukraine, Biden warned during a press conference on February 7 that "if Russia invades... there will no longer be a Nord Stream 2. We will bring an end to it."
According to Hersh, the US leader decided to order the detonation of mines at the bottom of the Baltic Sea last September because the conflict "wasn't going great in Ukraine" from a US perspective. There was "at best a stalemate" during that period, in what Hersh described as "the American war that President Biden was so eager to support."
You can share this story on social media: