Danish Navy present near Nord Stream 2 – media
A ship used by military divers was spotted near the sabotaged pipeline after discovery of mystery object, national daily reports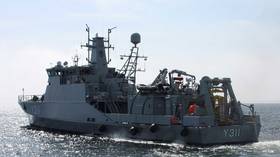 The Royal Danish Navy is believed to be conducting a diving operation to the east of the island of Bornholm, not far from the Nord Stream 2 gas pipeline damaged by a blast. Newspaper Berlingske reported on Tuesday that a Flyvefisken-class patrol vessel used by military divers had been seen there along with two other military ships. The Danish military confirmed its presence east of Bornholm but would not comment on the ships' mission, Berlingske said.
Last week, Denmark's Foreign Minister Lars Rasmussen announced that his government could corroborate a report by the Russian gas giant Gazprom, the operator of the undersea pipeline, about a strange object found near Nord Stream 2.
The company sent pictures of the item to Danish authorities, while the Russian government made a formal inquiry through its embassy, the minister said. Copenhagen treats the discovery seriously and will investigate further, Rasmussen pledged at the time.
The object was mentioned last week by Russian President Vladimir Putin in a TV interview. He said it was found during a Gazprom survey about 30 kilometers away from where the pipeline was breached. The device may be an antenna used in remotely detonating a charge, the president suggested, citing experts.
Moscow asked for permission to explore further, Putin added, necessary because the object is located in Denmark's exclusive zone. Russia could organize a mission "on its own, jointly with [the Danes], or, better yet, with an international group of experts in explosives who are trained to work at such depth."
Rasmussen said such permission would not be granted, triggering a rebuke from the Russian Foreign Ministry.
The sabotage of the two Nord Stream pipelines, which mostly run next to each other but divert a bit near Bornholm, involved explosions in two different general locations, one in Danish waters, the other in the Swedish zone. Three of the four strings comprising the key energy links were ruptured.
According to a report by veteran investigative journalist Seymour Hersh, the operation was ordered by US President Joe Biden, with the militaries of the US and Norway planting the charges. Both nations have denied any responsibility.
You can share this story on social media: