US trying to 'cover up' Nord Stream sabotage role – Seymour Hersh
The CIA has been told to provide the media with an alternative story for the pipeline's destruction, the veteran journalist claims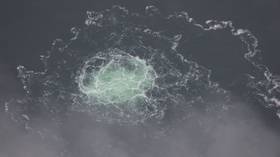 Pulitzer Prize-winning journalist Seymour Hersh has claimed the US intentionally provided false stories to the media to cover up Washington's involvement in the destruction of Russia's Nord Stream 2 pipeline.
In a post on his Substack blog on Wednesday, the veteran reporter claims the CIA was tasked with preparing a cover story – in collaboration with Berin's BND intelligence service – to provide the American and German press with an "alternative version" of the Nord Stream 2 explosions.
"In the words of the intelligence community, the agency was 'to pulse the system' in an effort to discount the claim that Biden had ordered the pipeline's destruction," Hersh wrote, citing an anonymous source with access to diplomatic intelligence.
He noted that the CIA had completed its task and, with the help of Germany, planted stories in the New York Times and German weekly Die Zeit. These referred to a supposed "ad hoc 'off the books' operation" carried out by a "pro-Ukrainian group," which allegedly used a luxury sailing yacht to plant explosives on the Nord Stream pipelines.
"It was a total fabrication by American intelligence that was passed along to the Germans, and aimed at discrediting your story," a source within the American intelligence community reportedly told Hersh.
"The disinformation professionals inside the CIA understand that a propaganda gambit can only work if those on receiving are desperate for a story that can diminish or displace an unwanted truth. And the truth in question is that President Joe Biden authorized the destruction of the pipelines," he added.
In February, Hersh published a bombshell report on last September's Nord Stream 1 and 2 gas pipeline blasts, accusing Washington of orchestrating the attack. The White House denied responsibility. Last week, several Western media outlets claimed the culprits may have been linked to Ukraine. Moscow dismissed the reports as "a coordinated media hoax campaign."
You can share this story on social media: