EU country says it won't arrest Putin
Enforcing the ICC warrant against the Russian president might violate Hungarian law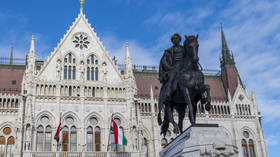 While the Hungarian government has yet to take an official position on the International Criminal Court's war crimes warrant against Russian President Vladimir Putin, the prime minister's chief of staff said on Thursday that the country's constitution wouldn't allow for its enforcement.
"We can refer to the Hungarian law, and based on that we cannot arrest the Russian president ... as the ICC statute has not been promulgated in Hungary," said PM Viktor Orban's chief of staff, Gergely Gulyas, addressing reporters during a press conference in Budapest.
"These decisions are not the most fortunate as they take things towards further escalation and not towards peace," Gulyas said in reference to the ICC warrant, qualifying it as his "personal, subjective opinion."
Last week, the ICC called for the arrest of Putin and Russian children's rights commissioner Maria Lvova-Belova, accusing them of personal, command and indirect responsibility for "forcible transfer of population," referring to Moscow's efforts to evacuate children from the combat zone. Ukraine cheered the move, accusing Russia of "kidnapping" children.
Moscow responded by saying the ICC has no authority or legitimacy, as Russia never ratified the 1998 Rome Statute that established the court. Former president Dmitry Medvedev said that the charges meant a "complete collapse of international law." Russian authorities have also initiated criminal proceedings against the ICC's head prosecutor and three judges involved with the warrant.
Ukraine never ratified the Rome Statute either, but the government set up after the US-backed coup in 2014 announced it would accept its jurisdiction for crimes allegedly committed by Russia on its territory.
Hungary did ratify the Rome Statute, and was actually among the NATO countries and other US allies that sent the ICC a criminal referral on Ukraine on March 2, at least according to the court.
Washington was not directly involved, however, as the US does not recognize the ICC either. After withdrawing its signature on the Rome Treaty in 2002, the US Congress passed a law allowing for the use of military force to rescue any American or member of an allied military, should they be detained in The Hague.
You can share this story on social media: