Ukraine agrees to ICC office in Kiev
The move comes just days after the Hague-based institution charged the Russian president with war crimes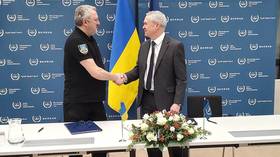 Ukraine's prosecutor-general signed an agreement on Thursday to allow the International Criminal Court (ICC) to open a representative office in Kiev, just days after The Hague-based entity issued an arrest warrant for Russian President Vladimir Putin.
Prosecutor-General Andrey Kostin called it a "significant beginning" in the country's relationship with the ICC, though Ukraine has still not signed the Rome Statute to accept its jurisdiction.
"I am convinced that we will not stop until all those guilty of international crimes committed against Ukraine are brought to justice," including the Russian military and political leadership, Kostin said after meeting with ICC Secretary Peter Lewis.
Kostin also praised ICC Chief Prosecutor Karim Khan, a British lawyer, for "tirelessly standing guard over justice," and said Ukraine and the court were "building a more just world" together.
Khan had charged Putin and children's rights commissioner Maria Lvova-Belova with "forcible transfer of population," over Russia's efforts to evacuate children from the combat zone.
The ICC itself acknowledged that Ukraine is not a party to the Rome Statute, the 1998 international treaty that established the ICC. However, the court noted that Kiev has selectively accepted its jurisdiction for alleged crimes committed beginning in November 2013 – when US-backed protests against the government, later known as the Maidan revolution, began – and for an indefinite period thereafter.
Russia never ratified the Rome Statute, and Moscow has responded to the warrant by saying the ICC has no authority or legitimacy. Former president Dmitry Medvedev said that the charges signaled a "complete collapse of international law." Russian authorities have also initiated criminal proceedings against Khan and ICC judges Tomoko Akane, Rosario Salvatore Aitala and Sergio Gerardo Ugalde Godinez, involved in issuing the warrant.
The ICC also revealed that referrals for the alleged crimes in Ukraine came from a collection of countries, mainly EU and NATO members or otherwise allied with Washington. The US itself was not directly involved, however, as it too does not recognize the court. The US withdrew its signature in 2002 and passed a law allowing for a military invasion of The Hague in case any Americans or allies were detained there.
You can share this story on social media: