China gives US advice on Ukraine
It's time for Washington to reconsider its role on the conflict between Moscow and Kiev, Beijing has claimed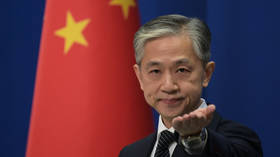 The US should stop "fanning the flames" of the conflict in Ukraine instead of making accusations against Beijing, Chinese Foreign Ministry spokesperson Wang Wenbin has said.
During a briefing on Wednesday, Wang responded to a statement by US National Security Council spokesman John Kirby, who had claimed the previous day that he didn't think "you can reasonably look at China as impartial in any way" when it comes to the fighting between Moscow and Kiev. Beijing has failed to condemn Russia's military operation, while continuing to buy energy from the country, he added.
Kirby noted that Chinese President Xi Jinping "saw fit to fly all the way to Moscow" this week, but has never spoken to his Ukrainian counterpart, Vladimir Zelensky.
The Chinese Foreign Ministry spokesman rejected Kirby's claims, stating that the US was itself too deeply involved in the conflict in Ukraine to accuse Beijing of being biased.
"The US side claims that China's stance isn't impartial. But is it impartial to continuously supply weapons to the battlefield? Is it impartial to constantly escalate the conflict? Is it impartial to allow the effects of the crisis to spill over globally?" Wang said, referring to the Biden administration's policies.
"We advise the American side to rethink its own stance on the Ukraine issue, turn away from the erroneous path of adding fuel to the fire, and stop shifting the blame to China," he said.
Beijing has "no selfish motives on the Ukraine issue, has not stood idly by... or sought profit for itself," the spokesman insisted. "What China has done boils down to one thing, that is, to promote peace talks."
As for Xi's trip to the Russian capital, which took place between Monday and Wednesday, Wang pointed out that this was "a journey of friendship, cooperation and peace, which has aroused positive responses in the international community."
The Ukrainian crisis was among the top issues discussed between Vladimir Putin and Xi in Moscow, with the Russian president stressing that many provisions of the Chinese peace proposal were "consonant with the Russian stance and can be taken as a foundation for a peaceful settlement when they are ready for it in the West and in Kiev." However, Putin pointed out that Moscow currently didn't detect readiness from either the US, its allies or the Ukrainian government.
You can share this story on social media: