Putin lauds Chinese peace roadmap for Ukraine
It can be implemented only when West and Kiev are "ready" for it, Russian president said after talks with his Chinese counterpart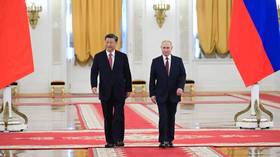 Russian President Vladimir Putin has praised Beijing's 12-point peace roadmap for Ukraine, during a summit with his Chinese counterpart Xi Jinping.
The Chinese leader is making a three-day visit to Moscow, and today's official talks took place at the Kremlin.
"We believe that many of the provisions of the peace plan put forward by China are consonant with the Russian stance and can be taken as a foundation for a peaceful settlement when they are ready for it in the West and in Kiev. However, so far we have not observed such readiness on their part," Putin stated.
The Chinese president said Beijing continues to strictly adhere to the UN principles over the conflict between Moscow and Kiev, maintaining a balanced position. Xi also reiterated his call on all parties to exercise restraint and for a return to negotiations to seek a diplomatic solution to hostilities.
"We're always for peace and dialogue, and we firmly stand on the right side of history," Xi added.
The two leaders met behind closed doors first, with a number of top officials, including Foreign Minister Sergey Lavrov, Security Council Deputy Chairman Dmitry Medvedev and Defense Minister Sergey Shoigu, taking part in the negotiations on the Russian side. The meeting was followed by another round of talks with expanded delegations, involving more government ministers and the heads of Russian state corporations.
The two leaders welcomed the developing ties between the two nations, with the Russian president stating they have already reached their "highest-ever level."
"I look forward to maintaining close contacts with President Vladimir Putin in various forms to contribute to dynamic and long-term development of Chinese-Russian ties," Xi stated.
The negotiations come as a part of the Chinese leader's three-day visit to Russia, which began on Monday. Earlier in the day, he held bilateral talks with Russian Prime Minister Mikhail Mishustin. During that meeting, Xi revealed he had invited Putin to visit later this year. The Chinese president also invited Mishustin to visit China.
During the talks, Russia and China inked 14 documents, including two joint statements by the presidents, according to the Kremlin website. These include a protocol on strengthening cooperation in fundamental scientific research, a program on cooperating in nuclear reactor construction, an agreement on cooperation in the production of joint TV programs, as well as multiple memorandums of understanding in various fields.
On Monday, Xi and Putin held almost five hours of informal talks behind closed doors. President Xi's visit is his first to Russia since the outbreak of the Moscow-Kiev conflict, and also his first foreign trip since securing an unprecedented third term as China's head of state.
The two nations have reiterated their commitment to build a multipolar world and reinforce their relations, described as a "strategic partnership." According to Xi, building closer ties with Russia is "a strategic choice China has made on the basis of its own fundamental interests and the prevailing trends of the world."
You can share this story on social media: