Xi invites Putin to visit China
The proposal was announced on first day of a state visit to Russia by the Chinese leader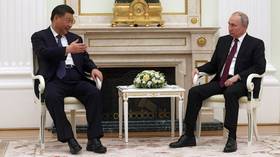 Chinese President Xi Jinping, who is in Russia on a state visit, has invited his host Vladimir Putin to return the honor later this year or whenever he can make the trip. Xi made the invitation public during a meeting with Prime Minister of Russia Mikhail Mishustin, whom he also asked to come to China.
The Chinese leader said he'd extended his invitation to Putin on Monday, the first day of his three-day trip to Russia, local media reported Tuesday. The Russian leader could come at his convenience, his guest said.
The visiting Chinese dignitary also expects his Russian counterpart to be in China later this year for the third Belt and Road Forum for International Cooperation, Xi added, noting that Putin had taken part in the previous two events, in 2017 and 2019.
Belt and Road is China's flagship, multibillion dollar initiative for investment in the infrastructure of other nations, which Beijing hopes will significantly boost international trade. Xi first proposed it in 2013.
During his meeting with Mishustin, Xi lamented that the Covid-19 pandemic became an obstacle to personal visits by top-level officials and urged the premier to take advantage as soon as possible of the recent lifting of travel restrictions in China. Mishustin's office has confirmed that the invitation has been accepted.
The visit of the Chinese delegation headed by President Xi is considered a major political event in Russia. The two nations describe their relations as a strategic partnership that has brought Moscow and Beijing to their best-ever level of cooperation.
Xi said on Monday that fostering relations with Russia was "a strategic choice China has made on the basis of its own fundamental interests and the prevailing trends of the world," since the two nations shared a commitment to building a multipolar world.
You can share this story on social media: