Why China is so important for the Russian economy
Beijing has been a crucial economic partner for Moscow in the face of intensifying Western sanctions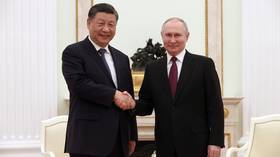 Chinese President Xi Jinping arrived in Moscow on Monday for a three-day official visit to discuss strategic cooperation and other issues with his Russian counterpart Vladimir Putin. RT looks at the state of economic relations between the two nations in the face of growing outside pressure, and what it means for Russia.
Record trade
Official statistics show that Russia was the leader among China's 20 largest partners in terms of trade growth in 2022. China's trade with Russia hit a record high last year, growing by nearly a third despite Western sanctions against Moscow. It has continued to rise this year, with both exports and imports jumping by double digits in the first two months of 2023 in annual terms, customs data shows. According to Russian President Vladimir Putin, the $200 billion turnover goal set by Moscow and Beijing for 2024 could be achieved earlier than expected. The two countries are on pace to reach that milestone this year.
Energy cooperation
Bilateral cooperation in the oil and gas sectors has been growing dramatically. Russia has become one of the leading oil suppliers to China and the largest supplier of natural gas to the country. In February, Moscow and Beijing sealed an agreement for additional natural gas supplies to China via the Far Eastern Route. While China's economy gets an adrenaline boost from cheaper Russian energy, Moscow makes up for lost revenue on the European market, which is critical for withstanding Western sanctions.
'Yuanization' of Russian settlements
The Chinese currency, the yuan, has become a major player in Russia's foreign trade, according to data from the country's central bank. The share of renminbi in Russia's import settlements jumped to 23% by the end of last year from only 4% in January 2022. The yuan's share in export settlements also surged from 0.5% to 16%. At the same time, the two countries have been slashing the share of the US dollar and euro in their bilateral trade.
China filling Western void
Chinese companies have been actively filling the gaps in the Russian market left after the departure of Western companies, hundreds of which were forced to leave the country due to Ukraine-related sanctions. There was a surge in Chinese exports to Russia, primarily of machinery and other types of goods, including computers, cell phones, and cars. The share of Chinese auto sales in the Russian market is projected to reach 60% this year, according to car-dealer chain Autodom.

Russian exports growth
Goods made in Russia have also been gaining popularity on the Chinese market, and there are expectations of further broadening the scope of Russian exports in spheres like the pulp and paper industry, chemical industry, fertilizer production and metallurgy. Over the past several months, China has overtaken the EU as the top importer of Russian agricultural products.

Joint projects
Moscow and Beijing have completed a number of projects in transport infrastructure, including the launch of railroad and motorway bridges over the Amur River in the Far East, which separates the countries. The two sides have also been developing cooperation on major projects in such fields as energy, aviation, space and connectivity. Collaboration in scientific and technological innovation, cross-border e-commerce and other emerging areas is "showing strong momentum," according to President Xi.

Global projects
The development of the ambitious Belt and Road Initiative (BRI), the expansion of BRICS and the Eurasian Economic Union (EEU) are also on the agenda, in order to provide more institutional support for bilateral and regional cooperation.
No-limits partnership
Analysts point out that Beijing has proven to be a particularly crucial economic partner for Moscow due to the unprecedented Western sanctions aimed at shutting Russia out of the global economy. Ties between the two countries are now "at the highest level in their history and are gaining even more strength," without any limitations or taboos, according to President Putin.
Sanctions

Having the world's second biggest economy as a major trading partner makes Russia sanctions-proof and impossible to isolate from the global economy.
For more stories on economy & finance visit RT's business section
You can share this story on social media: