Charity defends 'inclusivity guide' that triggered fact-checks
Snopes stepped in to confirm that Oxfam really did call English the "language of a colonizing nation" after a backlash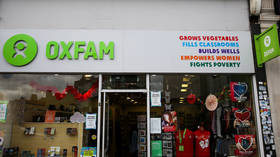 Global anti-poverty charity Oxfam's new "inclusive language guide," a 92-page tome billed as a must-have for NGOs "who have to communicate in English," has elicited indignation and even a fact-check following its publication earlier this week.
The guide is "based on a set of feminist principles for language use that centre the power and agency of people experiencing inequality," a press release accompanying its publication states. Terms that might offend a marginalized group are printed alongside preferred alternatives, some of which go far beyond familiar terminology.
Instead of "expectant mothers," for example, the guide suggests "people who become pregnant." "Prostitutes" are replaced by "people who sell sex"; "the blind" become "people with visual impairment"; "the elderly" and "youth" are recast as "elderly people" and "young people." However, the document also cautions that using the term "people" could be perceived as "patriarchal," because "it is often misunderstood as only referring to men."
The guide calls English "the language of a colonising nation" in its introduction, lamenting the "Anglo-supremacy" of the nonprofit sector as "one of the key issues that must be addressed in order to decolonise our ways of working and shift power." While Oxfam has "been guilty of 'white savior' narratives" in the past, the charity insists it is "learning from decolonial activists to change that."
The guide was pilloried on social media and picked up by Fox News and other media outlets on Thursday. Advocacy workers questioned the utility of playing language police when "women in sub-Saharan Africa have a one in 37 chance of dying in pregnancy and labour," as international development researcher Maya Forstater told The Telegraph.
Even Snopes, the notorious fact-checking website, stepped in on Thursday to verify the claim that Oxfam had in fact published a language handbook that "advises people to avoid use of the words 'mother' and 'youth.'" The verdict turned out to be true, though Snopes stressed that Oxfam was not trying to "ban or abolish the use of these words."
Oxfam merely doubled down amid the backlash, taking to Twitter to defend advising volunteers to "avoid assuming the adoption of gendered roles [i.e. mother and father] by transgender parents" on Thursday. Accusing critics of "cropping the document" to exclude context, the charity claimed the guide wasn't meant to be "prescriptive" but merely to be "respectful to the diverse language of people with which we work."
You can share this story on social media: