Leading 'politically biased' corporations identified – watchdog
Apple, Coca-Cola, and Disney are among the companies prone to "canceling" those they disagree with, a report claims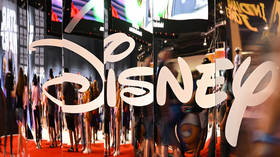 More than 140 major corporations operating in the US are more likely to target people and businesses for political reasons, according to a report from conservative non-profit organization 1792 Exchange. The research was released last month, but only recently gained media interest.
In its Corporate Bias Rating, the group assessed over 1,000 entities based on "the likelihood a company will cancel a contract or client, or boycott, divest, or deny services based on views or beliefs." The non-profit also tracked hiring practices, as well as whether a company uses corporate reputation and charity donations to "advance ideological causes, organizations, or policies hostile to freedom of religion or speech."
The corporations placed on the red "high-risk" list include giants such as Amazon, Disney, Coca-Cola, Pepsi, McDonald's, Johnson & Johnson, Starbucks, Unilever, Nike, and Walmart. The group also rated Google's parent company Alphabet and Facebook owner Meta as highly prone to bias, together with Twitter, YouTube, and Reddit.
The companies rated as "medium risk" have "generally demonstrated willingness to advance one-sided ideological agendas," and lack protections against discrimination of dissenting views, 1792 Exchange said. This category includes streaming service Netflix, clothing giants Adidas and H&M, video game publisher Activision Blizzard, and dairy and yogurt producer Danone.
Covid-19 vaccine-maker AstraZeneca, as well as Barnes & Noble, Wendy's, Acer, and Siemens were among the entities rated as being at "lower risk" of bias.
Speaking to Fox News on Sunday, 1792 Exchange President Paul Fitzpatrick said activists use the companies' environmental, social, and governance policies to "fill and weaponize" them in order to promote their own agenda.
In recent years, several major companies have been accused of introducing "woke" ideas into their workplace training programs. In 2021, Coca-Cola's internal training course was leaked, revealing that employees were being advised to try to be "less white."
Last year, Disney vowed to fight a law in Florida that bans teachers from including the issues of sexual orientation and gender identity in classroom discussions in kindergarten through third grade. Governor Ron DeSantis responded by stripping the Walt Disney World theme park of its special tax and self-government status in the state.
You can share this story on social media: