Australian premiers spar over nuclear sub waste disposal
Canberra will be required to safely dispose of spent fuel on its own territory as part of the AUKUS agreement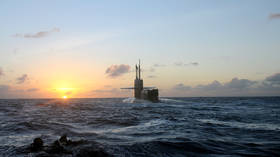 The Australian political establishment is divided as to where the federal government should dispose of nuclear waste acrruing from the country's expanded submarine deal with the UK and US.
An accord which rubber-stamped the sale of US nuclear-powered submarines to Canberra was struck by the leadership of the countries which make up the AUKUS bloc, in San Diego, California earlier this week.
In addition, Australian Prime Minister Anthony Albanese confirmed that his country would build its own nuclear submarine fleet, to be delivered in the early 2040s. The terms of the agreement stipulate that the Australian government will be responsible for the disposal of nuclear waste from the vessels – but this appears to have opened a new political front for the country's various state leaders.
"I think the waste can go where all the jobs are going," said Victorian Premier Daniel Andrews via the Australian Broadcasting Corporation on Thursday, referencing the 8,000 jobs which are expected to be generated in South Australia during the construction of the military submarines. "I don't think that's unreasonable, is it?"
West Australian Premier Mark McGowan has also indicated that nuclear waste disposal sites are unwelcome in his state, joining Andrews in suggesting South Australia as the most appropriate location.
Susan Close, the acting South Australian premier who doubles as the region's environment minister, responded to the suggestions by saying the decision on nuclear waste locations should be dictated by science and not by "state leaders trying to move nuclear waste that doesn't yet exist across the border."
A final decision on the location of the site is not expected for another 12 months, though the eventual site won't be required for use until around 2055.
The AUKUS deal will see Australia become the seventh nation with nuclear-powered submarines in its military arsenal, and comes amid Western concerns about China's military expansion in the Indo-Pacific region. Beijing has rebuked the AUKUS nuclear submarine agreement, saying it contradicts accepted norms of nuclear non-proliferation.
You can share this story on social media: