Moscow spooked NATO from going all in for Ukraine – John Bolton
Attacks on any target, including Nord Stream, should not imperil foreign aid, the US arch-hawk argued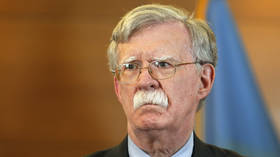 Russian intimidation has prevented NATO members from giving Ukraine the weapons it needs and allowing it attack any targets it wants – including key European infrastructure – US arch-hawk John Bolton has claimed. This must change, he has insisted, in an oped urging President Joe Biden to change his policies.
"[Russian President] Vladimir Putin has masterfully deterred NATO from responding robustly enough to end the conflict promptly and victoriously. Time to solve this problem is growing short," Bolton wrote in an opinion piece published by the Wall Street Journal on Wednesday.
The former national security adviser to President Donald Trump blamed Biden for failing to aim for "ambiguous goals" and claimed his "fear of Russian escalation" had led to a military gridlock in Ukraine. The current president "barely tried" to prevent the Russian military operation, Bolton argued, before criticizing the reported limitations imposed by Washington in terms of which targets Kiev can attack with the weapons it gets from the West.
"NATO pressures Ukraine not to strike inside Russia, and to spare key assets like Nord Stream, whereas the Kremlin can strike anywhere within Ukraine," he wrote.
Nord Stream comprises two undersea gas pipelines, which were built to deliver Russian natural gas directly to Germany. They were blown up in September.
Bolton mentioned claims in the Western press, which said US intelligence suspected that a "pro-Ukrainian group" not connected with any government had carried out the sophisticated operation. Even if Kiev ordered the attack, he said, it should not impact the level of support it gets.
According to Bolton, debates in NATO on whether to deliver longer-range ATACMS missiles or F-16 fighter jets to Kiev "reflect a disjointed strategy" and harm Ukraine's war effort. He said it was clear to him that "fears of Russian escalation are unwarranted."
Bolton is a lifelong advocate for using US hard power against other nations, including nuclear powers Russia and China. US political observers suggest that he may seek the Republican nomination for president in the 2024 election.
Fox News host Tucker Carlson included him on a list of GOP candidates to whom he sent a questionnaire on the Ukraine conflict to get them on record. One question was whether the US should support regime change in Russia. Bolton failed to respond, Carlson said during his show on Monday.
You can share this story on social media: