Pentagon calls Moscow to discuss drone downing
Lloyd Austin and Mark Milley contacted their Russian counterparts for the first time in months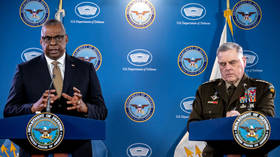 US Defense Secretary Lloyd Austin reached out to his Russian counterpart, Sergey Shoigu, on Wednesday, for the first time in months, to discuss the incident in which an American spy drone went down in the Black Sea waters off Crimea.
According to the Russian Defense Ministry, Shoigu told Austin that the incident was caused by the Americans violating the airspace restriction declared by Russia, with all the proper international notifications in place. Shoigu called US drone flights off the Russian coast "provocative in nature" and risked an escalation of tensions in the Black Sea.
While Russia does not desire such a development, it will "continue to respond proportionately to all provocations," Shoigu said. He added that the two nuclear powers "must act as responsibly as possible," which includes keeping a military channel open to discuss any crisis.
Speaking at a Pentagon press briefing, Austin confirmed that he made the call, and said it was "important that great powers be models of transparency and communication." However, he insisted the US would "continue to fly and to operate wherever international law allows."
The last time Shoigu and Austin spoke was in October 2022, according to AP. The top military officers also had a phone call about the matter, with US General Mark Milley, the chairman of the Joint Chiefs of Staff, reaching out to his Russian counterpart, General Valery Gerasimov.
On Tuesday, the US European Command claimed that two Russian Su-27 jets conducted an "an unsafe and unprofessional intercept" of a MQ-9 Reaper drone, which was conducting an intelligence, reconnaissance and surveillance (ISR) mission in international waters over the Black Sea. According to the US military, one of the planes struck the drone's propeller, causing the operators to ditch the UAV into the water.
The Russian Defense Ministry, however, said that at no point did any of the interceptors make contact with the drone, or use their on-board weapons. The UAV stalled and crashed after executing an abrupt maneuver, Moscow said.
Russian ambassador to the US Anatoly Antonov said he told the State Department that US drones have no business so close to the Russian border. The drone was reportedly just 60 kilometers off the coast of Crimea when it crashed.
The US has flown drones and other surveillance aircraft near the Russian border for over a year, providing intelligence and targeting information to the Ukrainian government – along with weapons, ammunition and money – while insisting it is not a party to the conflict. Nikolai Patrushev, secretary of the Russian Security Council, said on Wednesday that the drone incident was "yet another confirmation" the US was directly involved.
You can share this story on social media: