Drone incident confirms US involvement in Ukraine conflict – Russia
The Reaper that crashed near Crimea should be retrieved and studied, Russia's top security official says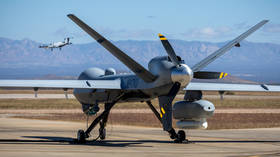 Moscow will attempt to recover the wreckage of the American MQ-9 Reaper drone that fell into the Black Sea on Tuesday, the secretary of the Russian Security Council, Nikolai Patrushev, has announced.
Speaking live on federal broadcaster Rossiya 1 on Wednesday, the official admitted that he doesn't know if it will be possible to reach to the remains of the UAV but stressed that it was important to make an effort to find and study the wreckage.
Patrushev also added that "Americans keep saying that they are not participating in the hostilities" in Ukraine and that this latest incident with the drone is "yet another confirmation that [the US] are directly involved" in the ongoing military conflict.
The secretary's statement comes after Washington's European Command (EUCOM) reported that one of its MQ-9 Reaper drones was brought down over the Black Sea on Tuesday morning as a result of "unsafe and unprofessional" actions by two Russian Su-27 fighter jets. The Pentagon insists that one of the Russian interceptors had "struck the propeller" of the drone while it was conducting a reconnaissance mission in international airspace.
The Russian Defense Ministry has denied claims that its planes came into contact with the American drone, but reported that Aerospace Forces had recorded the flight of an American UAV over the Black Sea towards the Russian border and dispatched two interceptors to investigate. The ministry noted that the aircraft was flying with transponders turned off and in violation of the temporary air borders established around the ongoing military operation area in Ukraine.
At some point, "as a result of sharp maneuvers" the drone went into "uncontrolled flight" and crashed into the sea, the ministry reported, noting that Russian fighters did not use any airborne weapons and did not come into contact with the drone.
US National Security Council coordinator for strategic communications John Kirby has since stated that the US is taking all the necessary measures to ensure that the remains of the MQ-9 Reaper drone do not fall into anyone else's hands.
"It's the United States' property. We obviously don't want to see anybody getting their hands on it beyond us," Kirby told CNN. However, he also admitted that he's not sure if the US will be able to recover the aircraft, because it fell into "very very deep water" in the Black Sea. "We're still assessing whether there can be any kind of recovery effort. There may not be."
You can share this story on social media: